Published: Jul. 2, 2003 at 8:05 PM HST
|
Updated: Apr. 12, 2011 at 7:44 PM HST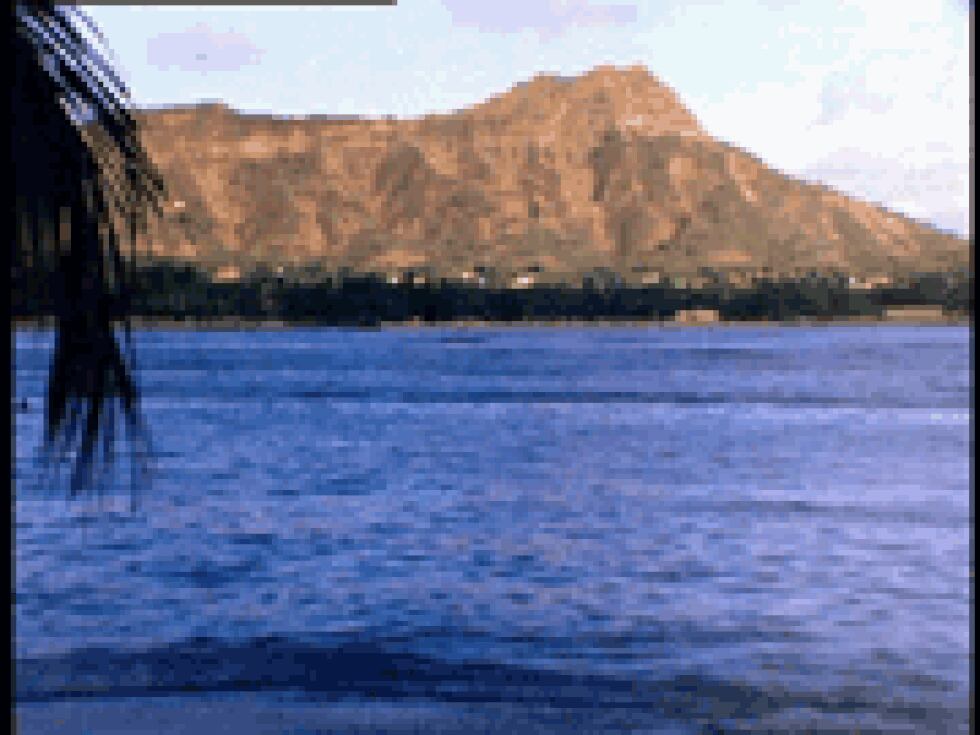 HONOLULU
Hawaiian Name Meaning:
"Hono" means valley with a bay in front of it. "Lulu" means sheltered. It variously translates as "fair haven", "quiet harbor" or "sheltered harbor".
Location/Land Area:
Located on the Southeast coast of O'ahu between Makapu'u and Halawa. The Honolulu District has a total area of 272.1 km² (105.1 mi²). 222.0 km² (85.7 mi²) of it is land and 50.1 km² (19.4 mi²) of it is water.
Population: 371,657 (2000 Census, Honolulu District)
History:
Hawaiian oral histories and modern archaeology indicate a settlement in Honolulu about 1100 A.D., but it may have been settled earlier as the first Polynesian migrants arrived nearly 2,000 years ago. King Kamehameha I, who conquered Oahu in a decisive Battle fought the length of Nuuanu Valley, moved his court from the Big Island to Waikiki in 1804. He relocated to what is now downtown Honolulu five years later. Honolulu Harbor, was entered by the first foreigner, Captain William Brown in 1794. He named the harbor Fair Haven. Honolulu became the most important shipping point in Hawaii. It flourished with sandalwood export and then as a supply port for whalers. Sugar, pineapples, light manufacturing, tourism and defense installations followed as economic mainstays and the last two remain so to this day. Missionaries arrived from New England in 1820, to be followed later by immigrants from Asia. In 1850, Kamehameha III proclaimed Honolulu the capital city of his kingdom.
Interesting Facts:
For many years, the Aloha Tower in Downtown Honolulu was the tallest building in Hawaii. Currently, it's the 450-foot-tall First Hawaiian Bank Tower, located on King and Bishop Streets. Honolulu's public transit system, TheBus, has twice been Voted "America's Best Transit System" by the American Public Transportation Association in 1994-1995 & 2000-2001. Iolani Palace is the only royal residence in the United States. Honolulu is the largest city in the world, rather it has the longest borders. According to the State Constitution, any island (or inslet) not named as belonging to a county belongs to Honolulu. This makes all islands within the Hawaiian Archipelago, that stretch to Midway Island (1,500 miles northwest of Hawaii) part of Honolulu. Honolulu is 1,500 miles long or more distance than halfway across the 48 contiguous states. Ala Wai Golf Course is Hawaii's first municipal course. Honolulu is the nation's 11 th largest metropolitan area.
Landmarks:
Iolani Palace, King Kamehameha I statue, Hawaii State Capitol, Pearl Harbor, USS Arizona Memorial, USS Missouri, National Cemetery of the Pacific, Waikiki Beach, Bishop Museum.
Famous People:
Don Ho, Sid Fernandez, Bette Midler, Tia Carrere, Senator Daniel K. Inouye, Hiram L. Fong, Michelle Wie, Kelly Hu, Kelly Preston.