Honolulu FBI crack alleged 'modern-day slavery' case
Published: Sep. 3, 2010 at 2:49 AM HST
|
Updated: Sep. 3, 2010 at 2:57 AM HST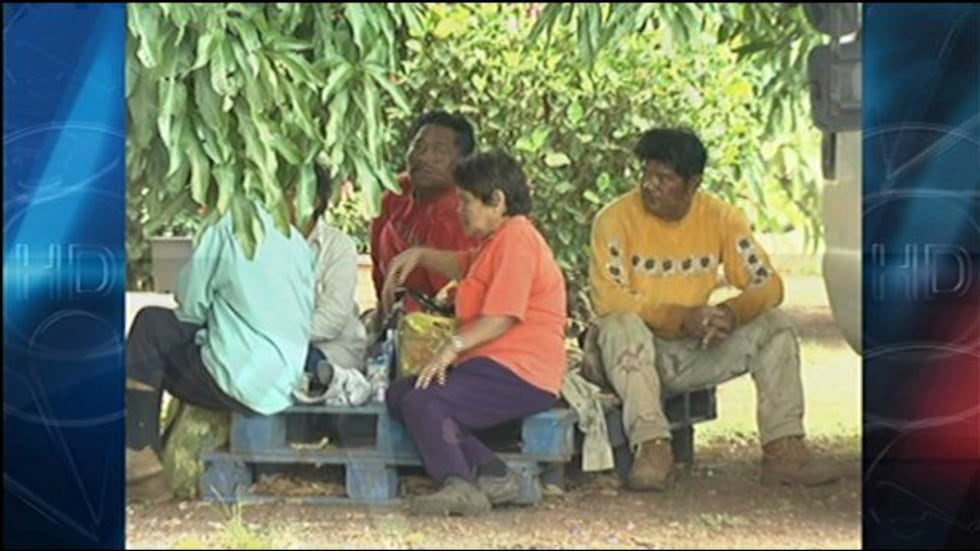 By Mari-Ela David - bio | email
HONOLULU (HawaiiNewsNow) - There's a major break in what Honolulu's FBI calls 'modern-day slavery'.
Agents say they've cracked the largest human trafficking case ever charged in U.S. history.
An indictment released on Thursday shows six people charged with exploiting 400 Thai nationals.
The FBI says they allegedly forced the victims to work on farms on the mainland, plus more than a dozen farms in Hawaii.
Federal authorities accuse four recruiters in the U.S. and two in Thailand of a labor scheme.
The defendants are Mordechai Orian, an Israeli national living in Los Angeles, Pranee Tubchumpol, also a Los Angeles resident, Shane Germann of North Dakota, Sam Wongsesanit, a 39-year-old Kona, Hawaii resident, Ratawan Chunharutai of Thailand who's considered a fugitive, and Podjanee Sinchai, also a Thailand resident considered a fugitive.
The six indicted work for Global Horizons Manpower, a labor contractor based in L.A.
"The recruiters for Global Horizons sought out poor Thai individiuals in Thailand and made them promises of high wages and good working conditions in exchange for jobs in Hawaii," said Tom Simon, a special agent with Honolulu FBI.
Simon says Aloun Farms on Oahu is one of 14 Hawaii farms that used Global Horizons work force. Aloun's owners, brothers Mike and Alec Sou, are already under fire for a separate case that also involves luring and mistreating farm workers from Thailand. Their next court hearing is September 9th.
"These are two totally separate cases. We're not saying that Aloun Farms did anything wrong in this situation involving this indictment," said Simon.
The indictment, filed on September 1st, alleges that the recruiters paid the workers less than what they promised, did not honor their employment contracts, and took away the workers passports so they couldn't escape.
In one case, the indictment says they "strung yellow tape around the Maui Pineapple Farm housing and installed bells on string lines in the woods to alert the guards if a worker attempted to escape."
Simon says there's no evidence the farmers knew.
"There are immigration laws in the U.S. that allow legitimate companies to bring in foreign workers if those jobs cannot be filled with American workers. A lot of companies use third parties to get that labor through the door," said Simon.
Hawaii Farm Bureau Federation President, Mae Nakahata, says in the Aloha State, it's difficult for farmers to detect criminal labor activity.
"Many of our farmers are basically small farmers, so you're talking about lands that are 10 to 20 acres in size. They're not large operations, so they don't have like a Human Resources department or anything, so they rely on 2nd and 3rd party entities to bring in the labor for them," said Nakahata.
No Hawaii farmers are charged, and many of the Thai workers have been sent back to Thailand.
Those still here are being helped by Social Services.
There's no word on exactly how many Thai workers Global Horizons sent to Hawaii, nor how much they paid them.
The allegations are from May 2004 to September 2005.
The indictment says the workers each paid up to $21,000 in recruitment fees.
"These are poor people. They didn't have a lot of money to pay so what they did was take out loans on their homes, their family farm, some of which had been in their families for generations, centuries even," said Simon.
If the victims refused to work, Simon says the recruiters allegedly threatened to send them back to Thailand, where they'd be faced with a huge debt.
Simon says the indictment is the result of a 2-year investigation. He says several brave workers in 2008 alerted immigration lawyers about their situation. The lawyers then alerted the FBI.
The defendants make their first appearance in Honolulu's U.S. District Court on Tuesday.
A call to Global Horizons on Thursday was unsuccessful due to a full voicemail box.