Sunrise News Anchor
Honolulu, HI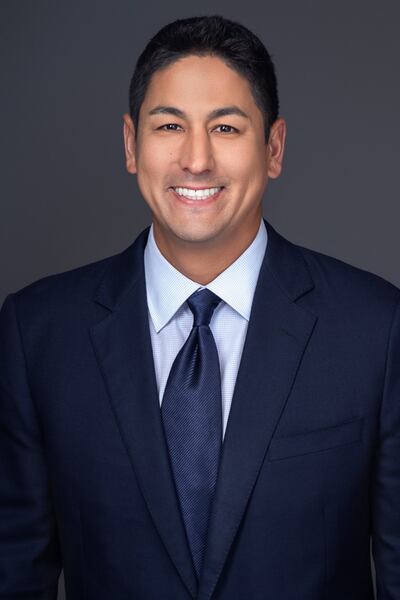 The first question I usually get is "what time do you guys get in every morning?"
And I almost always hear a groan when I tell someone that we usually arrive at the station by 3am.
To be honest, you get used to it. The hardest part is waking up. Once we get in, we feed off each other's energy and the morning starts to flow.
Sunrise has been one amazing ride, and it's even led to so many opportunities outside the station.
During my career with Hawaii News Now I've been to Rome for the canonization of St. Damien, New Orleans for the Warriors' Sugar Bowl appearance, and got to fly with the Blue Angels. We also went to Notre Dame and New York to cover local boy Manti Teo's career.
We even got to take our show to Hilo for Merrie Monarch Week one year. Every time we talk about it we smile and scream out the marketing pitch they made for that trip: "Sunrise on the Road!!!"
But getting to this point in my career, like anyone who's been in it long enough will tell you, hasn't come easy. Most of us in this business pay our dues.
I remember how hard it was trying to get noticed in the newsroom when I first started back in 2000.
I started out answering phones, filing papers, trying to get noticed with my hard work.
The first time I turned my news director's head was back in 2001 after the Ehime Maru tragedy. Every day we'd have a new box full of tapes coming through the newsroom. I would stay hours after work to write out what was on each tape, organize and label them. Eventually, I had the respect of my peers, and trust me there are few things more important than that in this business.
Eventually I became the weekend sports guy, covering everything from Michelle Wie's career to the Ewa Beach Little Leaguers' World Series run and every UH sport.
But we had the most fun covering UH Football with the June Jones & Coach Mac Shows.
My then-boss Liz Chun and I worked 7-day weeks writing features, taking notes at practice and conducting interviews for the show, while trying to cover our regular responsibilities.
Liz and I became incredibly close... and yadah, yadah yadah, years later we're married with a beautiful son and a daughter on the way.
So yes, she's STILL my boss.
Everyday I count my blessings to be on a show where I really enjoy coming to work and hanging out with my co-workers. I also enjoy working for a management team that respects it's morning show and gives us the opportunity to shine. So yes, 3am is early, but it really is worth it.
Steve Uyehara is a 3-time Emmy award winner. He's also won an Edward R. Murrow and Mark Twain award. Steve co-anchors Hawaii News Now: Sunrise morning starting at 4:30 a.m. Steve has been with KGMB9 since 2000.