Exhilarating action caps off day one of the 2023 Maui Invitational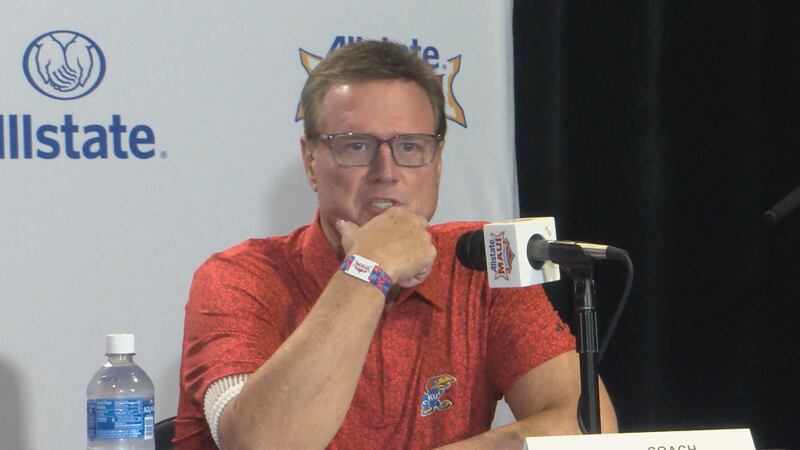 Published: Nov. 20, 2023 at 9:05 PM HST
HONOLULU (HawaiiNewsNow) - Headlined by No. 1 Kansas, this year's field boasted arguably the strongest in its history as day one of the 2023 Maui Invitational came to a close.
In game one, No. 7 Tennessee downed Syracuse, 73-56.
"We wanted to pick up early and we wanted to really try to not let them get going downhill," Tennessee head coach Rick Barnes told reporters. "They're not going to stop themselves if you don't get in the gaps early."
Then, No. 2 Purdue duked it out with No. 11 Gonzaga and the Boilermakers ran past the Zags, 73-63.
"You know, just by staying aggressive, everybody's capable of having a good half," Purdue player Lance Jones said. "You know, next man up, it could be anybody's night."
In the third game, host Chaminade took on the number one team in the land Kansas and the Silverswords looked ready to play.
Inspired by Chaminade's 1982 upset of then No. 1 Virginia, they played fast and stayed competitive for most of the game.
However no Miracle in Manoa tonight, final score, 83-56 Jayhawks.
"I thought they were quicker than us a good portion of the game," Kansas head coach Bill Self said. 'I think they beat us off the bounce too much, but, you know, statistically our defense statistically wasn't the issue, I thought we got in our way offensively a lot."
The Silverswords grateful for the experience of playing some of the country's best.
"It's been really cool," Chaminade player Ross Reeves said. That's why a lot of us come to Chaminade, is to play in games like this, we play on the big stage and we feel like we can play on the big stage."
In the night cap, No. 4 Marquette took on UCLA and another back and forth battle in the Stan as the Golden Eagles closed out opening night with a 71-69 win over the Bruins.
The first game of day two begins on Tuesday at 9:30 a.m.
Copyright 2023 Hawaii News Now. All rights reserved.