Rainbow Warriors fall to Wyoming on the road, 42-9 in the Paniolo showdown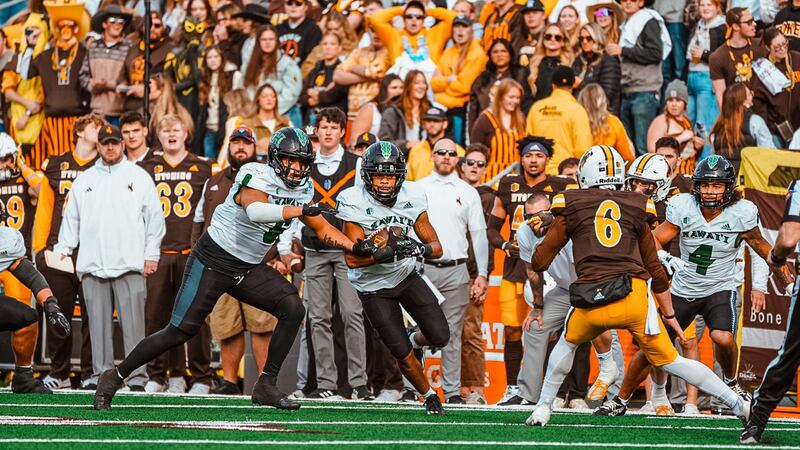 Published: Nov. 20, 2023 at 9:46 AM HST
HONOLULU (HawaiiNewsNow) - A tough loss on the road for the Rainbow Warriors football team. Falling to Wyoming, 42-9.
The Paniolo Trophy is staying in Laramie after UH sputtered out of the gates, while the cowboys were shooting at the hip.
Sunny conditions at War Memorial Stadium and the Pokes told UH this town ain't big enough for the two of us.
They waste no time to score the opening Touchdown — a 44 yard pass from Andrew Peasley to Ryan Marquez.
From there, the Cowboys continued to ride, 35 unanswered points in the first half to make it a 35-nothing game going into halftime.
It took Hawaii till the third quarter to put points on the board — a 30 yard field goal via Matthew Shipley.
At the end of the third, the 'Bows finally find pay dirt, a 19 yard pass from Brayden Schager to Chuuky Hines.
"I knew I had to beat him in order to get the touchdown, so I just executed the play," Hines told Hawaii News Now. "I caught the ball and scored, very thankful, thank God."
It would be too little too late, Wyoming held strong and scored one more time in the fourth for the dagger.
Final score, 42-9.
Hawaii is officially out of Bowl game contention and now look to end the season on a high note next weekend on Senior night.
"Yeah, that's the main part just trying to win for the seniors. those are the people that laid the foundation for us, so we're just trying to get the win for them."
The 'Bows take on Colorado State next Saturday to close out the 2023 campaign.
Copyright 2023 Hawaii News Now. All rights reserved.