Wahine look to finish regular season strong as six seniors play final match in Manoa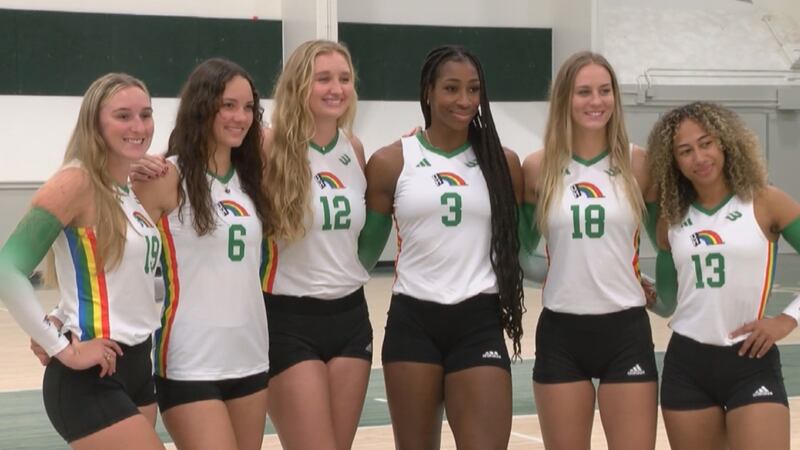 Published: Nov. 17, 2023 at 10:16 AM HST
HONOLULU (HawaiiNewsNow) - It's the final regular season weekend for the Rainbow Wahine volleyball team.
It's also a time to celebrate the seniors, a group that's helped the program remain a success.
The Wahine take on UC San Diego on Friday followed by their regular season finale against Long Beach State on Saturday, that night 6 seniors will be honored for their time in Manoa.
Many reflecting on their time in the program and what it truly means to be a Rainbow Wahine.
"I mean, it's something you kind of don't really understand at first," Senior Riley Wagoner said. "Everyone just kind of telling you how special it is, but I think when you're here over the five years that I've been here, it comes really true just what everyone is saying about the family, community and just everything that we're working towards."
All of the seniors will leave their mark on the team, but maybe no bigger than Amber Igiede. The fifth year senior from Baton Rouge, Louisiana has rewritten the record books and is honored to be mentioned with the greats that have come before her.
"I'm extremely grateful that my name can even be in that conversation or associated with the players that I've looked up to and watched before," Igiede said. "That have made an impact in this in this program and it's just gratitude is a feeling that overwhelms me."
Now despite the fanfare for the seniors this weekend, the team wants to finish strong as the Big West tournament still looms.
"So you want to take one game at a time and not overlook anybody," Wagoner said. "You've seen in conference like a couple of upsets have happened."
First serve on Friday and Saturday is set for 7:00 p.m. Hawaii time.
Copyright 2023 Hawaii News Now. All rights reserved.