Hawaii football heads to higher elevation to take on Wyoming for the Paniolo trophy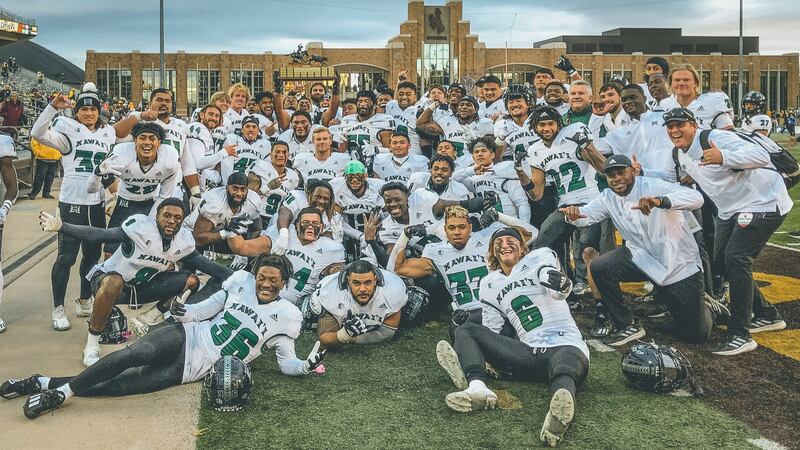 Published: Nov. 17, 2023 at 11:17 AM HST
HONOLULU (HawaiiNewsNow) - Fresh off the heals of an upset win over Air Force in Mānoa, the University of Hawaii football team is heading for higher elevation, set to take on Wyoming and continue their winning ways.
The Rainbow warriors head to Laramie, Wyoming on a two-game winning streak, handing the Mountain West leading Falcons their first conference loss of the year.
The team crediting a new mindset that has reinvigorated the program — "push the sled"
"There's a toughness about this game, there's a toughness that it presents," Head coach Timmy Chang said. 'There's a toughness that has to be met and matched, mentally and physically and spiritually and that's where the sled comes in."
"Pushing the sled" was implemented after their loss to New Mexico and took a couple weeks to get going, but UH now starting to reap the benefits.
"I've just seen a lot happen and just change in a good way throughout this team these recent weeks," Defensive back Cam Stone said. 'If I can do that for them and it would mean the world to me."
UH heads to the cowboy state looking to reclaim the Paniolo Trophy, the two teams have been splitting possession over the last few seasons, but Hawaii is determined to get it back.
This will also be a special game for cornerback Cam Stone who transferred from Wyoming this season after spending three years with the Pokes.
"It's essentially another game, another opportunity to make plays with my teammates," Stone said. "Of course, I'm excited to see the guys that I once played with, but I can't let this be a game of emotions in that way."
Stone and company focused on shutting own the Cowboys this weekend.
"You know, it's quite simple, stop the run, make them throw the ball in my opinion," Stone said. "If we can get him to put the ball in there, I think we'll have a fun time."
Kick off is set for Saturday at 9:00 a.m. Hawaii time.
The game is available on Spectrum Pay-Per-View.
Copyright 2023 Hawaii News Now. All rights reserved.