'HNN Two-Minute Drill': Things start to heat up in the ILH as the 2023 season goes on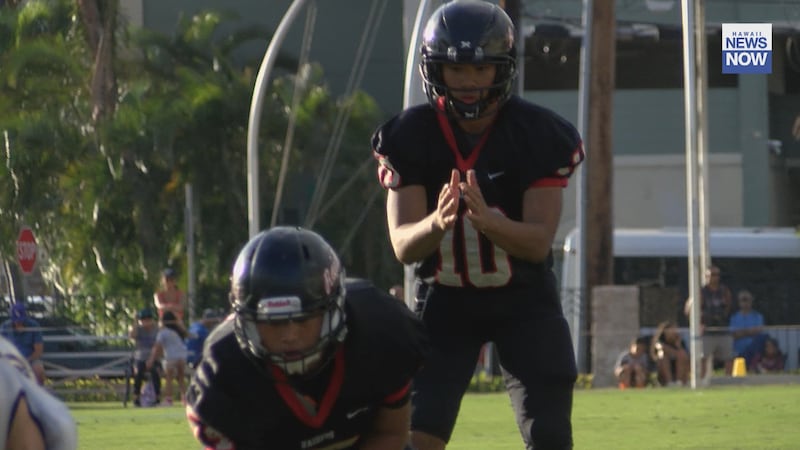 Published: Sep. 24, 2023 at 9:42 PM HST
HONOLULU (HawaiiNewsNow) - It was another exciting weekend of Hawaii high school football with the ILH beginning league play.
Here's a look at some of what went down this weekend.
Damien vs. Iolani
Starting off with some afternoon action with Iolani hosting Damien on Homecoming.
This ILH Rivalry runs deep, but the Monarchs would come out strong to lead it 35-21 in the first half. Some highflying action would give the Raiders the edge in the second half, final score 63-56,.
It was a truly a high flying afternoon, both quarterbacks posted 7 touchdowns and over 400 yards each, but it was Iolani's CJ Villanueva that celebrated homecoming with a win.
Campbell vs. Farrington
The boys from Ewa Beach went out to Kalihi friday night for a Campbell-Farrington matchup.
The Sabers put up 300 more yards on offense than the Govs. Led by Jaron Keawe Sagapolutele's 3 T-D's and he ran one one in himself.
Campbell moves to 6-1 with a final score of 42-13.
Punahou vs. Kamehameha
The night cap saw two long time rivals collide on the top of the hill as Kamehameha hosted Punahou.
The Warriors at an unblemished 4-0 coming in while the Buff 'N Blue were coming off of a loss to campbell.
The Sons of Oahu played with a chip on their shoulder. The defense kept KSK out of the endzone while Ty McCutcheon was slinging it with 319 yard and 2 TDs.
Punahou opens ILH play with a 31-3 win.
Here's a look at some of the other scores in week five.
Friday
Saturday
Copyright 2023 Hawaii News Now. All rights reserved.