Breezy trades for a few more days with more passing showers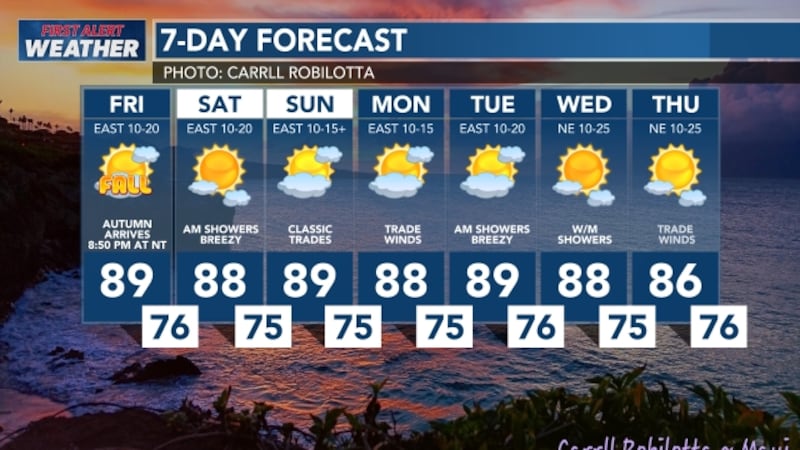 Published: Sep. 21, 2023 at 9:01 PM HST
A showery and breezy trade wind pattern will persist into Friday. The showers may be a bit more frequent but still be on the lighter side. Windward and mauka areas will also get most of the moisture, but the winds will carry some of it to leeward areas.
The breezy trades should continue into Saturday before trending down somewhat Sunday. Another period of more frequent showers Saturday night through Sunday morning as an area of enhanced moisture, thanks to a weak upper disturbance that will be just northeast of the state at that time. Moderate trades are expected to continue through the middle of next week.
Because of the breezy trades, a small craft advisory is in effect until 6 p.m. Saturday for the usual windier channel and coastal waters around Maui County and the island of Hawaii. The winds will also continue to produce choppy surf along east-facing shores. South shore surf will remain close to the 2 to 4 foot seasonal average into the weekend, while north and west shores can expect a slight increase in wave heights this weekend.
Finally, summer ends and fall begins at 8:50 p.m. Friday.
Copyright 2023 Hawaii News Now. All rights reserved.