When flames descended on Lahaina, he stayed to fight — and save as many as he could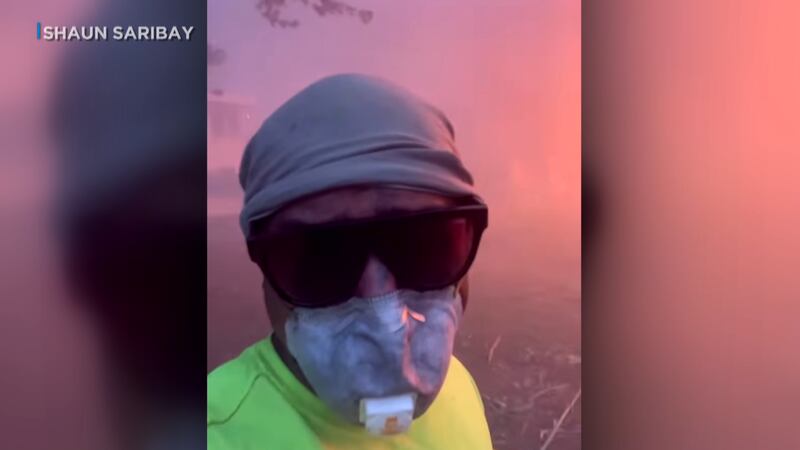 Published: Aug. 20, 2023 at 8:49 AM HST
|
Updated: Aug. 20, 2023 at 5:41 PM HST
LAHAINA (HawaiiNewsNow) - When Lahaina went up in flames, Shaun Saribay stayed to fight.
When most people were trying to flee from the flames in West Maui on Aug. 8, Saribay said his love for his community pushed him to stay and try to save as many people and structures as he could.
"I knew where all the water spigots were at Lahaina Methodist Church and I was grabbing hoses and stuff," said Saribay. "Put them in a circle, like a football huddle, and I was giving assignments of who gonna do what and we broke off."
Saribay says he and a handful of others knew they couldn't save the entire town that horrific day, but they weren't going down without a fight.
Saribay and his family have lived in Lahaina for generations.
He said he couldn't leave his beloved hometown behind.
"I love this place," he said. "No more no place like a Lahaina … This is where I'm going to take my last breath over here… and I almost did."
After a long grueling night, Saribay said everyone tried their best. He especially wants to thank the brave men and women of the Maui Fire Department.
"About like nine o'clock in the morning, a line walking of firemen … and I was like, ho this looks like an apocalypse video … then I heard 'Buge!' and that was my brother."
While much of Lahaina is gone, Saribay said they didn't lose the battle.
Saribay lost his home and his business, and he has no source of income.
If you would like to help him rebuild, click here.
Copyright 2023 Hawaii News Now. All rights reserved.