Today: Great weather! Tomorrow: Winds and Surf from Hurricane Dora
Hurricane Dora passes to the south of the islands but still brings blustery conditions starting tonight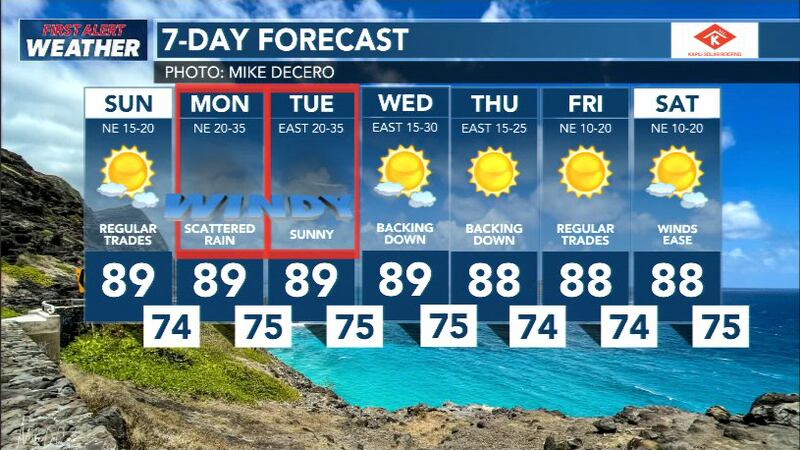 Published: Aug. 6, 2023 at 9:37 AM HST
HONOLULU (HawaiiNewsNow) - First Alert Weather: Starting Monday Morning thru late Tuesday night: High Wind Watch for areas of Maui and Hawaii island summits, Leeward and south sides & and mauka areas of Hawaii Island, Maui and Lanai due to Hurricane Dora passing to the south of the Hawaiian Islands. Gale Watch for portions of Hawaiian Waters near Maui and Hawaii Island's Southern and Leeward shores. Fire Weather Watch West and South sides of most Hawaiian Islands
Today: Nice regular tradewind weather with nice winds and sunny skies with some windward and mauka sprinkles. Tonight the western side of the state could get increased showers due to an upper level trough stalling near Kauai. The upper trough will weaken tonight and be pushed away by strong upper ridging moving in from the east. Tomorrow thru Wednesday: As Hurricane Dora will passes to the south of the Hawaiian Islands, it will bring increased ocean energy and WIND along the eastern, southern and some of the west sides of the Hawaiian Islands as it passes by. Regular trade wind weather expected to return sometimes on Wednesday.
A great tool to have is our First Alert Weather App and interactive radar.
Surf along east facing shores will be small today, then quickly ramp up and become rough later tonight through Wednesday due to a combination very strong trades, large seas and a moderate size long period easterly swell generated from Dora. The largest surf is expected over the eastern end of the state, where surf heights may reach warning levels from late Monday through Tuesday night. A short to medium period southeast swell is expected to fill in Tuesday through midweek.
Copyright 2023 Hawaii News Now. All rights reserved.