Assault trial for actor Jonathan Majors postponed until September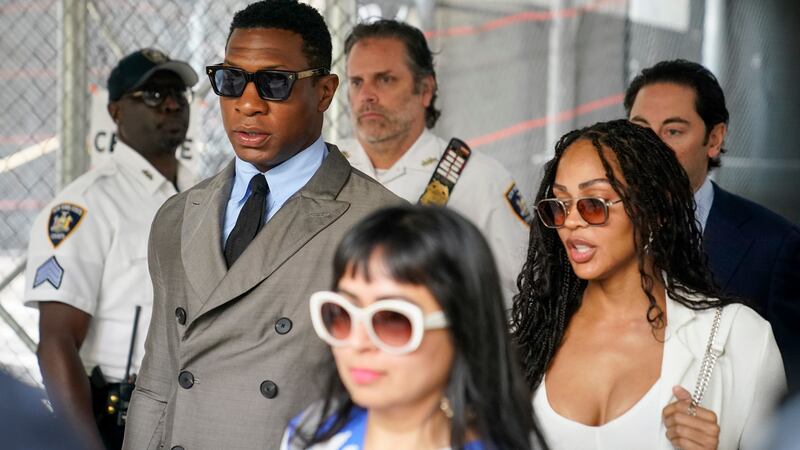 Published: Aug. 3, 2023 at 5:52 AM HST
|
Updated: Aug. 3, 2023 at 7:21 AM HST
NEW YORK (AP) — Actor Jonathan Majors' domestic violence trial was postponed until at least Sept. 6 after New York City prosecutors asked Thursday for more time to prepare.
Majors, 33, appeared in court for what was to have been the start of his trial on charges stemming from a March confrontation with a woman who says he twisted her arm behind her back, struck her on the head and pushed her into a vehicle. The woman was treated at a hospital for minor neck and head injuries, including a cut to her ear.
Majors is charged with misdemeanors, including assault, and could be sentenced to as much as a year in jail if convicted.
The judge set a new tentative trial date of Sept. 6 after prosecutors from the Manhattan district attorney's office requested more time for discovery.
Majors walked out of the courtroom after the hearing, acknowledging some seated in the gallery. At one point he bumped his hand to his heart to a woman seated near the door.
His attorney, Priya Chaudhry, said in an email that Majors was unjustly arrested and that it was he who "suffered at the hands" of his accuser.
She said Majors was "the real victim in this shameful ordeal," adding that he "has had his life, career, and reputation torn apart. Yet he remains unwavering in his determination to be absolved from this harrowing ordeal."
Majors has starred in the movies "Creed III," "Antman and the Wasp: Quantumania," among other features.
"We look forward to presenting the full facts and evidence at trial," said Doug Cohen, a spokesperson for the Manhattan District Attorney's Office.
Copyright 2023 The Associated Press. All rights reserved.