Maui woman's fearful shark encounter featured in national show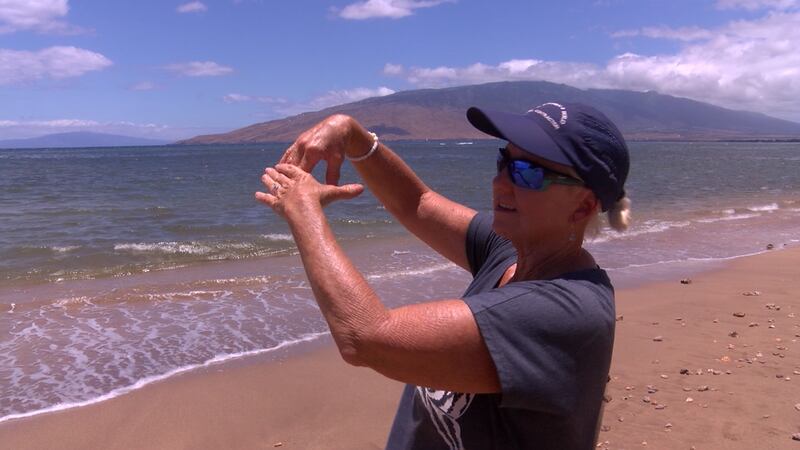 Published: Jul. 21, 2023 at 9:14 PM HST
KIHEI (HawaiiNewsNow) - Kim Lawrence walked along her favorite beach in South Maui Friday afternoon.
It is where she got married – and where she almost died.
"It hit so hard that I knew, I just automatically knew it was a shark," Lawrence said.
Shark experts say the size of the bite mark on her paddleboard indicates that a 14-foot tiger shark chomped down on her board at Waipuilani Beach Park in 2014.
"My first reaction is don't kick. Don't make any commotion. Just try and get on your board. So, I tried to lift myself up on the board, and I couldn't get my momentum," said Lawrence. "Right then, the shark came right up underneath me. Kicked as hard as I could with my left foot, and I stepped off his back and got on the board."
Lawrence's encounter was the third shark incident on Maui that week.
"I know how many shark shows there are now, and I thought I'm a statistic; somebody's going to reach out," she said. "They did. He said that they were doing a special on Sharktober, and I'd be interested in telling my story."
Lawrence's story was featured on National Geographic's "When Sharks Attack… and Why" this month.
"I think they did a really good job. I enjoyed the science," Lawrence said. "They have all the scientists trying to explain the why."
As an avid surfer, Lawrence said she has had multiple shark encounters and has the utmost respect for them.
One even knocked her off her surfboard back in the 1970s.
"I was on a surfboard, and I saw this giant fin come up; it was the size of a Volkswagen," said Lawrence. "His fin hits the rail of the board, and I spun around and freaked and had my hands and feet in the air, and he went down and went back out."
Lawrence has also beat stage 4 oral cancer. She says she is a true survivor.
"Challenges in life, we all have them," she said. "Just keep strong because the fighting is worth it. Keep paddling!"
"When Sharks Attack…and Why" is now available to stream on Disney+ and HULU and will premiere on Nat Geo WILD Wednesday, July 16th at 2 p.m. Hawaii time.
Copyright 2023 Hawaii News Now. All rights reserved.