Domestic violence changed her life. Now, she's trying to end the cycle for other Native Hawaiian women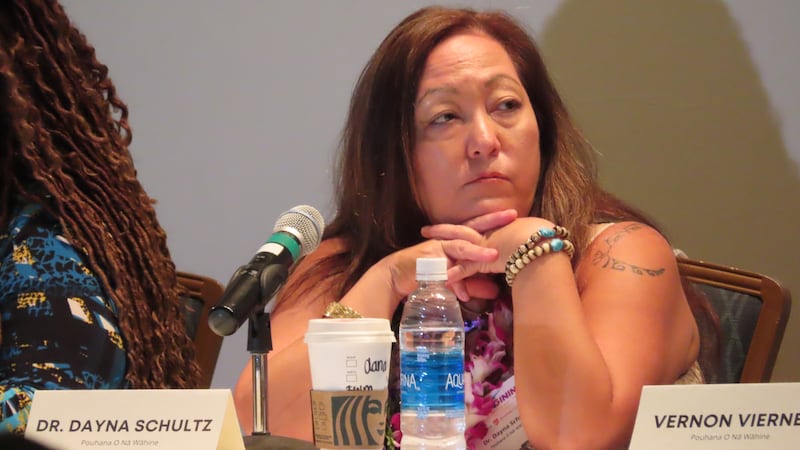 Published: Jun. 14, 2023 at 11:33 AM HST
HONOLULU (HawaiiNewsNow) - About 25 years ago, Dayna Schultz was beaten so severely by an intimate partner, she was hospitalized.
Living in military housing at the time, she says she was also forced off base on the mainland. She decided to return to the islands.
This trauma, and her aloha, motivated her to advocate for others in similar situations, especially other Native Hawaiian women.
"I'm still healing … 25 years later. But as an advocate, a lifelong advocate, I've been doing this work," Schultz said.
Today, Schultz is the executive director and co-founder of the nation's first Native Hawaiian resource center on domestic violence, Pouhana O Na Wahine. The organization is focused on advocacy and education.
In September, Pouhana O Na Wahine received a $1 million grant from the U.S. Department of Health and Human Services to lead prevention training and education for the kanaka maoli community.
The organization is set to develop community-specific policies and resources for Native Hawaiian stakeholders in order to combat disproportionate rates of violence.
Specifically, PONW plans to restore Native Hawaiian practices, support Native Hawaiian organizations, design model policies, training and education programs, and raise public awareness.
"Our goal is to cultivate safe spaces while bringing together resources and networking with the community so that weʻre able to bring healing to our sisters, brothers, children, future generations and everyone in between," said Jaki Knaus, PONW's Communications Specialist.
The organization has a staff of four, including Shultz, along with a board of directors.
Nikki Cristobal is the organization's policy and research specialist and is also the principal investigator for the Hawaiian Missing & Murdered Native Hawaiian Women, Girls, and Mahu Report.
Also on the team is Vernon Viernes, training and technical assistance specialist, who has previously worked with Native Hawaiians in addiction and incarceration spaces.
Pouhana O Na Wahine was founded without funding in 2015, when Schultz and three other advocates attended a conference on Oahu led by the National Indigenous Women's Resource Center.
'Pillars of women'
In the absence of money, the founding members of Pouhana O Na Wahine were fueled by a vision.
"We were working for aloha. It was no money," Schultz said.
Schultz serves as the nonprofit's executive director and all of the founders are Native Hawaiian survivors of trauma.
Pouhana O Na Wahine means "pillars of women," a name gifted by Aunty NaniFay Paglinawan with permission from kuhikuhi puuone Francis Palani Sineci — a traditional high-level Hawaiian builder.
Pouhana references the central pillar that holds up the home in Hawaiian architecture.
Schultz began her advocacy work in a domestic violence shelter and later decided she wanted to open her own healing center for women and children. She returned to school to pursue her doctoral degree in clinical psychology.
In the early years of Pouhana O Na Wahine, in addition to completing her doctorate, Schultz held several other positions. She flew across the islands to perform psych evaluations and launched the Domestic Violence Action Center's Hooikaika Ohana program for Native Hawaiian survivors ― all while raising her son as a single mom.
During the pandemic, Schultz was managing the state's suicide and crisis hotline.
That position, she said, has been the hardest in her career.
'The abuser was right there'
Schultz encountered many cases in which the individuals calling the hotline were in abusive relationships. These callers had been pushed to hopelessness by intimate partner violence.
Even worse, pandemic lockdowns made it so they could not escape.
Schultz said survivors faced difficulty reporting their abuse during this period because "the abuser was right there."
Hawaii's Domestic Violence Action Center also experienced a 46% uptick in contacts during the early pandemic.
A significant number of those reaching out for help were Native Hawaiian.
Schultz said she felt she could do nothing to help these survivors during this time. But Schultz's persistence and drive to serve survivors sustained her in her work to combat domestic violence.
"As a kanaka maoli myself, I really believe in bringing my aloha to others," Schultz said.
Schultz said that addressing domestic violence among Native Hawaiian survivors is complicated by the legacy of colonization. When Schultz sees a drop in rates of domestic violence among Native Hawaiians, she is skeptical.
She believes it is not that abuse is happening less frequently, but rather it is being underreported ― a product of "being controlled by a system and not being believed."
Schultz said that when society really cares and wants to intervene in domestic violence, the reporting of violence goes up. When those in power do not care, she has seen numbers fall.
'It's not OK'
Colonization brought the mindset that women must be subservient, Schultz said, but that is not part of Native Hawaiian culture. "As much as our people may not want to acknowledge that we've conformed to the norm and have taken on ways of the Western world, we have. There is a lot of violence against women," Schultz said.
According to the U.S. Department of Health and Human Services, 20% of Native Hawaiian women ages 18-29 experience intimate partner violence. This rate is 13.3% for non-Native Hawaiian women.
"A lot of anger Native Hawaiians still hold is expressed in violence and in physical ways and it's not OK," she said.
Data from 2021 show the highest rates of intimate partner violence occur in Hawaii County and that 25.8% of LGBTQ+ Native Hawaiians experienced intimate partner violence, according to Hawaii State Coalition Against Domestic Violence.
Schultz points to sex trafficking as another rampant form of violence against women in the state, fueled by a booming tourism industry. "Tourism is a big industry for us. But then again, tourism is one of the biggest problems we have. It's a sex trade industry," Schultz said.
Sixty-four percent of sex trafficking survivors in Hawaii identified as Native Hawaiian, a 2020 study conducted by the Hawaii State Commission on the Status of Women and Arizona State University found.
Historically, the report said, military presence and tourism have increased the demand for sex buying.
'We were even warriors'
This trend and disproportionate rates of domestic violence deviate from Native Hawaiian culture.
"Native Hawaiian women by history are cherished and sacred. We are givers of life. We nurture the family. We were even warriors," Schultz said.
In 1782, King Kamehameha I enacted ke kanawai mamalahoe, or the law of the splintered paddle. The law stated, "See to it that our aged, our women and our children lie down to sleep by the roadside without fear or harm."
Though intimate partner violence occurs mostly in the home, and not on the roadside, the law has a bearing on the current state of violence against women.
"Even though our women and elderly and children don't lie down by the roadside, they should be able to lie down and rest without fear of being harmed," Viernes told advocates last week.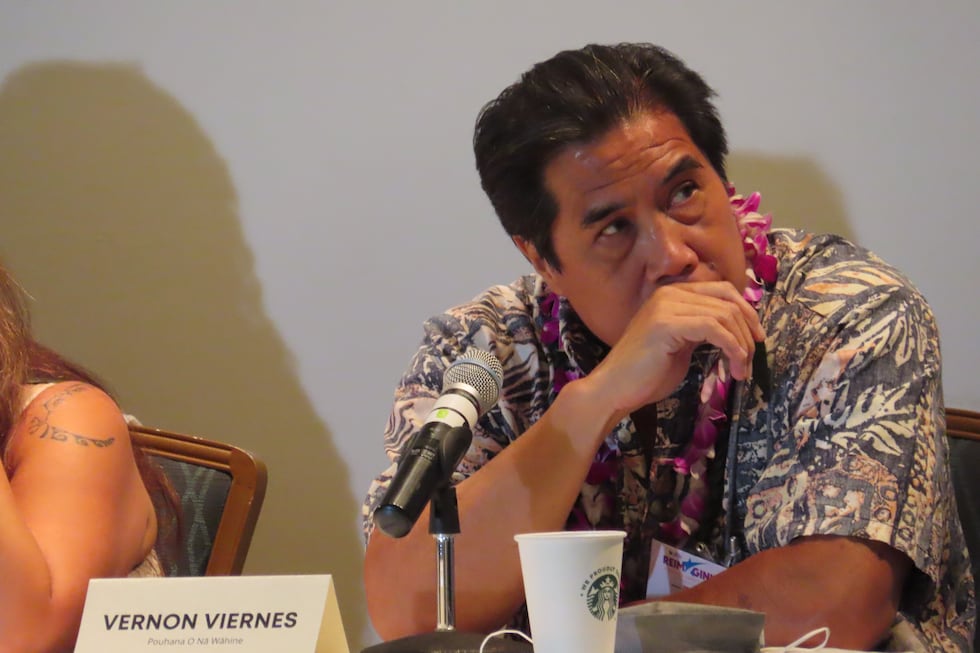 Schultz added that there is an over-sexualization of Native Hawaiian women and harmful stereotypes, making Native Hawaiian women targets for abuse. A fourth of all missing girls in Hawaii are Native Hawaiian, according to a recent report, which also said 15-year-old Native Hawaiian girls are the average profile of missing kids in the state.
"(Native Hawaiian women) live that cycle of trauma and violence in the home," Schultz said.
"We're taught from a young age that when you enter a party or into a room, you and kiss and hug everyone, but that's how sexual abuse happens," Schultz said.
'I'm an advocate for life'
In addition to advocating for survivors, Schultz wants to educate families and rehabilitate perpetrators of domestic violence. "We don't want to see our families broken so if that even means working with … those doing the violence, we want to be able to educate them and rehabilitate them so we can heal our people," Schultz said.
This approach of rehabilitating perpetrators is supported the Hawaii State Coalition Against Domestic Violence.
Perpetrators of domestic violence in Hawaii are sometimes required to complete court-ordered Batterers Intervention Programs.
"Currently in the state of Hawaii (batterer intervention programs) are court-ordered and then funded through the judiciary," said Angelina Mercado, executive director of the Hawaii State Coalition Against Domestic Violence.
Organizations, including Parents and Children Together family peace centers, are funded by the state Judiciary to provide these violence intervention programs. These programs are critical, according to Mercado.
When the state Judiciary experiences budget cuts, domestic violence prevention services can be impacted.
"There's a lot of funding for direct services to survivors of domestic violence, but there isn't a lot of funding for any programs for abusive partners," Mercado said.
'It needs to start with you'
The new federal funding for Pouhana O Na Wahine brings Schultz hope.
So far, Pouhana O Na Wahine has had conversations with survivors and providers across the state and has been invited to speak on other islands.
Jaki Knaus, PONW's communications specialist, said the organization is consulting with survivors, providers and community members surrounding domestic violence and what's being done to prevent it within the Native Hawaiian community.
PONW has webinars planned for July, August, and September on domestic violence, community well-being, mental health, and other culturally relevant topics.
The organization has already had virtual sessions, but for Schultz, being on shared land is important.
"Being in their aina, (there is) nothing better than being there," Schultz said.
Funding, she hopes, will bring her physically to other islands.
Though the Native Hawaiian community of survivors face unique challenges, Schultz says that domestic violence is an issue everywhere. "I think everyone has a role to play and it needs to start with you, me," Schultz said.
And Schultz says she'll continue her work, no matter what.
"I don't care if I got $1 or $1 million or no dollars, I'm an advocate for life. And I will continue to advocate for other survivors and their family members until my last breath," she said.
Copyright 2023 Hawaii News Now. All rights reserved.