Despite loss in NCAA final, the UH men's volleyball team still has a lot to be proud of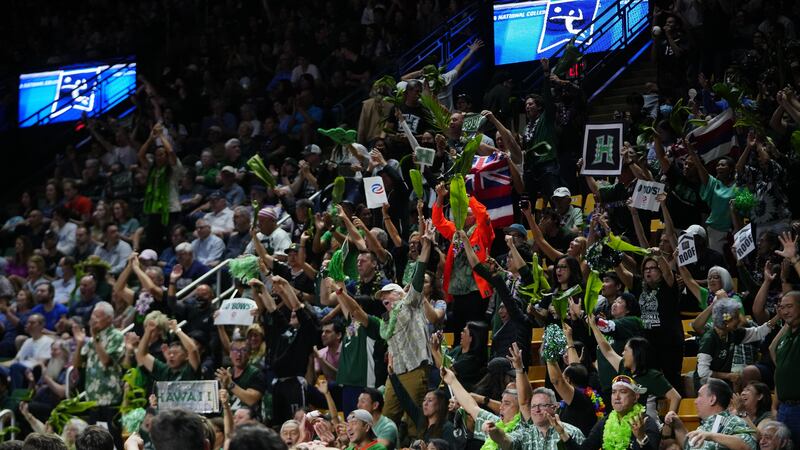 Published: May. 7, 2023 at 6:05 PM HST
HONOLULU (HawaiiNewsNow) - Hawaii's campaign for a third-straight national championship came to a close Saturday night at the EagleBank Arena in Fairfax, Virginia.
The 'Bows unable to best the Bruins and four sets, but for this group of departing seniors, they won't remember the game, but the journey it took to get here.
"Really historic what these guys have been able to do."
Hawaii didn't get the storybook ending they'd hoped for, but the team can hold their heads up high after making their fourth-straight Championship appearance and concluding the 2023 season with a 29-3e record.
The team saying aloha to a group of seniors that helped lay the foundation for the program's recent success on the court.
"I truly believe that we left the program in a better state than how we got to it." UH setter Jakob Thelle told Hawaii News Now following the match. "That goes to the coaching staff, that goes to the trust from all the players and just the love that we have for each other to make ourselves 1% better every day."
"Just really proud of everybody, it's been a ride."
And it's what's off the court is what matters most of the players.
"Just what they've been able to do in our community, you know, they really have created something that I would call generational in terms of the support and just the aloha that they have built and just how much pride and joy people in the state of Hawaii taken in supporting this team and watching them compete." Head coach Charlie Wade said. "these young men are very deserving of all that support."
For the fans, they are still proud of the 'Bows and the wild ride they took them on this season.
"So appreciate them and so, so sad that it didn't, It didn't turn out what we wanted for them and what they wanted to for us, but we still love them so much." UH fan Nancy Dela Cruz said.
"We left the hotel, and I saw those people, I cannot describe it, I cannot describe it." UH opposite Dimitrios Mouchlias said. "It means so much to us, that's the foundation, we are the final product of a whole process, okay, and there are so many things happening backstage that you guys don't see and all the fans are their major contributor for that, thank you."
Copyright 2023 Hawaii News Now. All rights reserved.