DOH: Discovery of WWII-era munitions along popular shoreline highlights alarming safety threat
Published: Apr. 27, 2023 at 4:54 PM HST
|
Updated: Apr. 27, 2023 at 8:21 PM HST
HONOLULU (HawaiiNewsNow) - The military says it recently unearthed six WWII-era mortars and grenades in Waimanalo, scattered throughout an area some residents use as a beach access.
State health officials are calling the hidden hazards a threat to public safety.
The site sits at the southernmost point of Bellows Air Force Station, north of Waimanalo Bay State Recreation Area.
While it's supposed to be off limits to the public, the military says its no trespassing signs do little to keep people out. HNN Investigates confirmed the area is often frequented by hikers, the homeless and off-roaders.
But state health officials and the military warn it's not a safe place to wander.
Technicians recently discovered the six World War II-era munitions on the approximately 140-acre site, which was once at the center of an urban warfare training camp.
Despite cleanup efforts that started decades ago, officials believe there are likely still more bombs out there.
"In the late 90s (and) early 2000s, there was a large removal action that was done. That was the start of that process," said GSI Companies Senior Program Manager Lawrence deVries. "We know that wasn't an exhaustive clearance. We've done additional characterization last summer. We've continued to find items."
Explosives like mortars and grenades.
State health officials are calling the situation a threat to public safety.
"We don't want people to come stumbling across" the munitions, said state Department of Health Environmental Specialist Sven Lindstrom.
He added that the site is "easily accessible from the state park from the beach. And there's areas where you can kind of cut through along the stream bed from Waimanalo to get to the beach."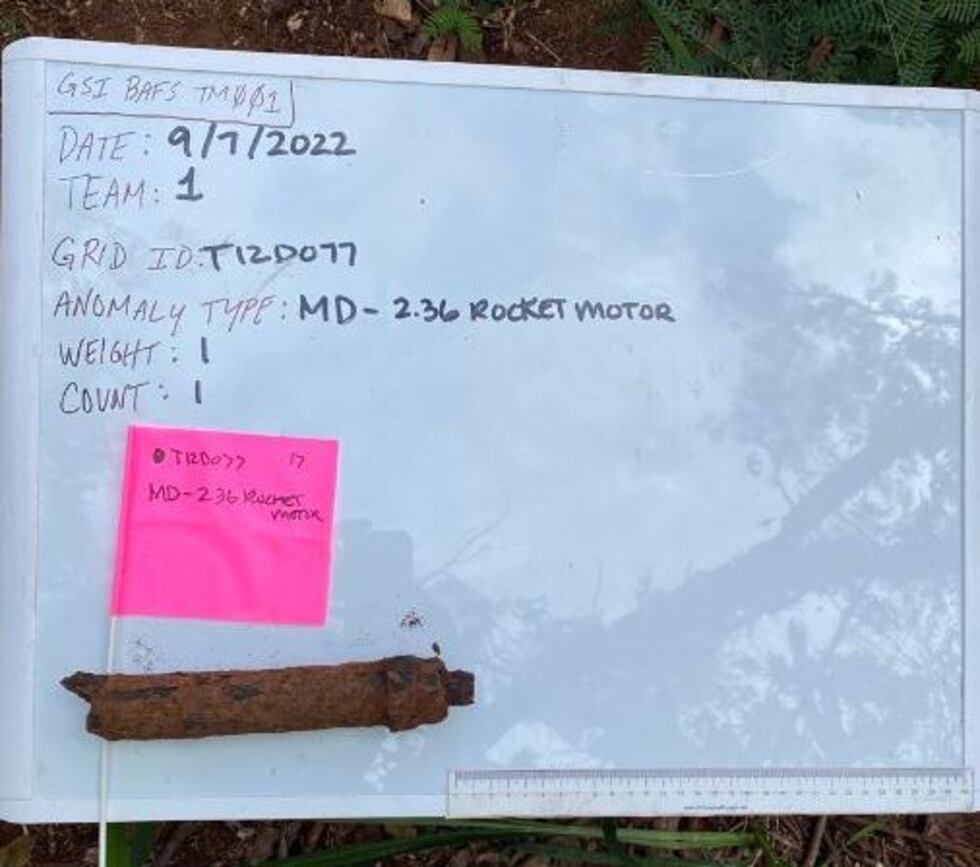 Those concerns prompted the military to post about two dozen signs along the perimeter of the site, warning the public of hidden hazards. The military also proposed fencing off the land but decided against it after strong opposition from the community.
When asked what's next Lindstrom responded, "We don't know what the plan is yet."
The area is one of four munitions response sites currently being investigated at Bellows Air Force Station.
Last summer, crews found a 25-pound bomb about a mile down the road, buried just beneath the surface of the sand at the Menehune campground. Now, signs warn visitors not to dig.
Got a tip for the HNN Investigates team? Email it here.
People are even cautioned from building sand castles.
On Tuesday night, members of the community expressed concern about whether lost explosives could be outside the military's property line, especially when it comes to the water.
"I'm a fisherman. It's my fear I could be dragging the net one day with my keiki and I could come home without one leg because we could accidentally pick up and set off an unexploded ordnance," said Restoration Advisory Board Co-chair Kuike Kamakea-Ohelo.
State health officials say it's a valid concern.
"There is potential for munitions to somehow have ended up in the bay," said Lindstrom. "And we've heard anecdotally people have seen what look like munitions in the water."
Officials say if you come across an old munition, don't touch it.
You should carefully back away and immediately report it by calling 911.
Copyright 2023 Hawaii News Now. All rights reserved.