Swath of Hawaii Island rife with old munitions prompts push for special construction protocols
Published: Mar. 31, 2023 at 5:54 PM HST
HONOLULU (HawaiiNewsNow) - Eight decades after the military battered parts of Hawaii Island with grenades, mortars, and bombs, lost munitions remain scattered across several communities ― all with the potential to explode.
Today, more than 20,000 people call the WWII-era Waikoloa Maneuver Area home. The formerly used defense site covers 100,000 acres.
It extends from the popular Waikoloa resort area east to Waimea and beyond.
"Several people have died here interacting with these unexploded ordinances. So it's a serious hazard," said Hawaii Department of Health Environmental Specialist Sven Lindstrom.
READ PART I: Despite decades-long cleanup, threat of unexploded ordnance on Hawaii Island remains high
That's why the Health Department wants property owners who live within the Waikoloa Maneuver Area to work with a certified bomb technician every time they do digging. But red tape is preventing the agency tasked with overseeing a decades-long cleanup from helping make sure that happens.
'Every one has the potential to go off'
Over the past two decades, the Army Corps of Engineers has recovered more than 2,700 unexploded munitions as part of an ongoing cleanup of the Waikoloa Maneuver Area.
"We have to assume that each and every one of these has the potential to go off," Lindstrom said. "So it's very important that the public be made aware of their presence and they know how to deal with them if they come across them."
The map below shows the boundary of the Waikoloa Maneuver Area.
All of those blue dots pinpoint spots where munitions have been discovered ― in neighborhoods, hidden on pasture land, even in the garden at Waimea Middle School.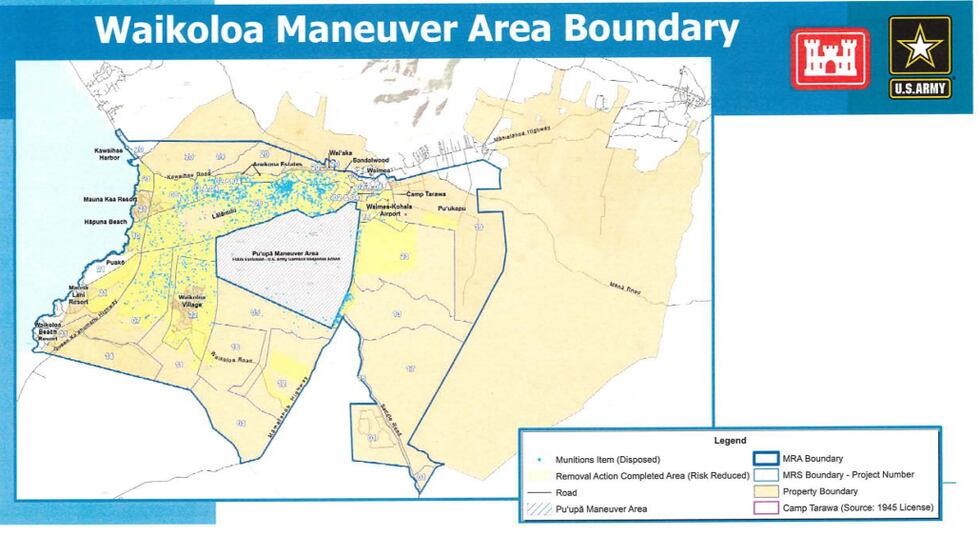 Experts believe there are thousands of unexploded munitions still out there.
All of them were left behind following the closure of a massive World War II training camp in 1945.
It's estimated about 20% of the explosives deployed during exercises were defective. More than three quarters of a century later, those grenades, mortars, projectiles and bombs are still deadly.
"These munitions are relatively inert as long as they're not disturbed," Lindstrom said. "If they're picked up. If you bang on them or hit them, that's when you could potentially set one of these things off."
State health officials say that can make any kind of digging potentially deadly. Since World War II, lost munitions here killed four people on Hawaii Island. Others have been hurt.
And despite the exhaustive cleanup effort, there's still a hefty risk, even in places contractors have already inspected.
Lindstrom said, "We like to say it's been cleared. But we can't say it's clean."
An 'extra step to be safe'
Officials say even the most advanced munitions-finding technology has its limitations. Tools may be unable to detect a bomb if it's buried too deep.
"You always have to assume that there's a possibility of something left there," said Lindstrom.
To address the situation, the state Department of Health has developed safety guidelines for people who want to dig or do any kind of development within the Waikoloa Maneuver Area.
"It recommends the use of what's called construction support," Lindstrom said.
The term refers to a certified unexploded ordinance technician who is hired to be on site.
"To survey the area as you dig down in the ground until you get to bedrock," he said. "It's an important extra step to be safe for the people who are working and living here."
But the agency tasked with overseeing the cleanup isn't helping to make that happen.
"We at the Department of Health have been trying to work with the Army Corps of Engineers to see if UXO construction support could be something that they incorporate in their land use controls. But to date, we haven't been able to convince them of that," Lindstrom said.
HNN asked Army Corps officials if the agency backs construction support, Chief of Technical Integration Lauren Zulick said, "Yes they do." He said it's something they're trying to incorporate, but have yet to accomplish.
"It would have to be identified in our record of decision as part of what needs to be done for the cleanup," Zulick said. When asked if the decision would have to come down from leadership of the Army Corps of Engineers he said, "They would have to concur with our findings and determinations to get us to that point."
It's unclear if or when that might happen.
Meanwhile, officials at the Department of Health say development can be done safely as long as you're aware of the potential hazards. "Our biggest concern is trying to get the word out," Lindstrom said.
In addition to construction support, officials want folks in the Waikoloa Maneuver Area to remember the three Rs if they spot something that doesn't look right.
First, recognize that it's a potential hazard. Do not pick it up. Then, retreat.
Finally, officials say to report it by calling 911.
Copyright 2023 Hawaii News Now. All rights reserved.