Despite decades-long cleanup, threat of unexploded ordnance on Hawaii Island remains high
Published: Mar. 30, 2023 at 5:35 PM HST
|
Updated: Mar. 31, 2023 at 2:53 PM HST
WAIKOLOA (HawaiiNewsNow) - Eighty years after the military battered parts of Hawaii Island with grenades, mortars, and bombs, officials estimate thousands of unexploded ordnances remain scattered throughout several West Hawaii Island communities ― a reality that impacts everything from daily life to future planning.
Over the years, munitions have been discovered in neighborhoods, hidden on pastureland, and even in the garden at Waimea Middle School.
And the danger is real: Since the closure of a massive World War II training camp known as the Waikoloa Maneuver Area in 1945, four people have been killed after coming across old military explosives. Others have been hurt.
Meanwhile, with the hazard still there, cleanup efforts have dragged on for decades.
In the last 20 years, the Army Corps of Engineers has recovered more than 2,700 unexploded ordnances in the Waikoloa Maneuver Area. Officials believe there are thousands more explosives still out there.
"These munitions are relatively inert as long as they're not disturbed," said state Department of Health Environmental Specialist Sven Lindstrom. "If they're picked up if, you bang on them or hit them, that's when you could potentially set one of these things off. Digging in the ground is a big cause for concern for us."
Perhaps the most significant challenge: The Waikoloa Maneuver Area is massive. As in the size of 100,000 football fields massive. It spans from the popular resort area in Waikoloa east to Waimea and beyond.
Every inch of it must be meticulously surveyed.
And even after an inspection is complete there's no guarantee the land is hazard-free. Decades into the cleanup, the best-case scenario suggests it could be decades more before the area is cleared.
For residents, that's meant not only concern for their safety, but for the future of their communities.
In Waikoloa, for example, a seemingly simple effort to build a brick-and-mortar library is rife with complication.
"The place to build the library has always been the challenge," said Hawaii County Council member Cindy Evans.
Clearing munitions 'like plowing a field'
The Waikoloa Maneuver Area dates back to 1943, the height of World War II. The U.S. military converted about 200,000 acres of ranch land into a sprawling training camp that could accommodate 50,000 Marines.
And for close to two years, about 100,000 acres within the camp was battered with explosives: Grenades, mortars, projectiles and bombs.
It's estimated as many as 20% of those munitions malfunctioned and for some reason didn't detonate.
Decades later, they're still energized and have the potential to explode. Those are classified as unexploded ordinances or UXO, for short. When the war ended and the camp closed, many of those hazards were left behind.
Despite two separate cleanups in the years after the war, officials say lost munitions have killed four and injured others. The significant danger prompted the federal government to fund a third cleanup, which started in 2002 and continues today. It's being conducted by three private contractors and overseen by the Army Corps of Engineers.
Over the past two decades, those contractors have found more than 2,700 unexploded ordinances in the Waikoloa Maneuver Area. As for how many are left, no one really knows. Finding them is tedious work that's done one step at a time. "We do it as if you would, plowing a field," said Stephen Brown, Army Corps hydrogeologic contractor.
During a recent visit to a Waikoloa munitions response site in Waimea, Brown showed HNN a piece of equipment called the "Apex," a machine mounted on four wheels so that it can be pushed over the land, foot by foot. Think of it like a high-tech metal detector that locates, map, and in some cases identifies metallic objects in the ground.
It's the most advanced of several technologies that the federally-funded private contractors are using to sweep the Waikoloa Maneuver area's 22 munitions response sites, which together cover an area of land the size of Lanai.
In the map below, each blue dot pinpoints the location where explosives have been found: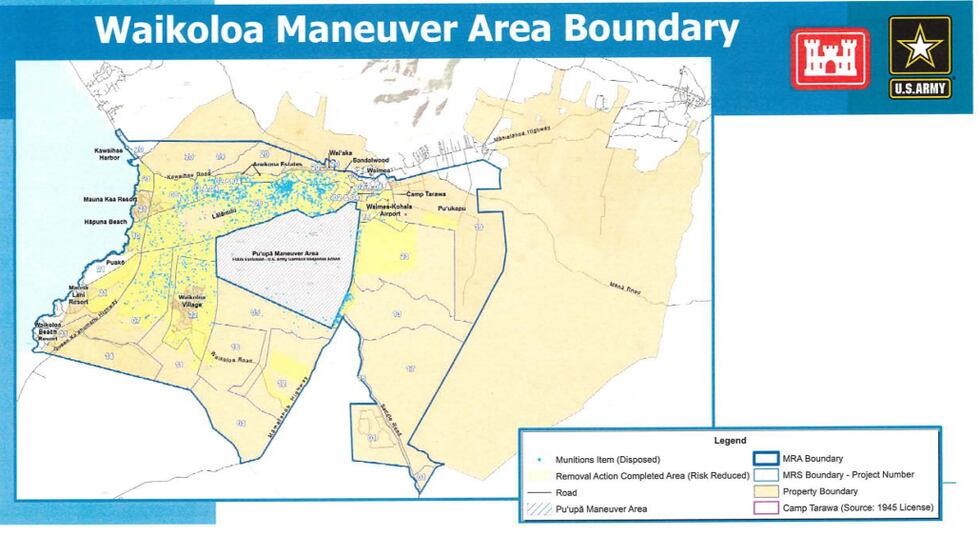 Experts say they've found old munitions in all sort of places. Larger ones are typically burrowed deep in the dirt while some are still sitting on the surface, camouflaged by vegetation.
Often, they appear to be something they're not.
The photos below show something that resembled a sprinkler head turned out to be mortar: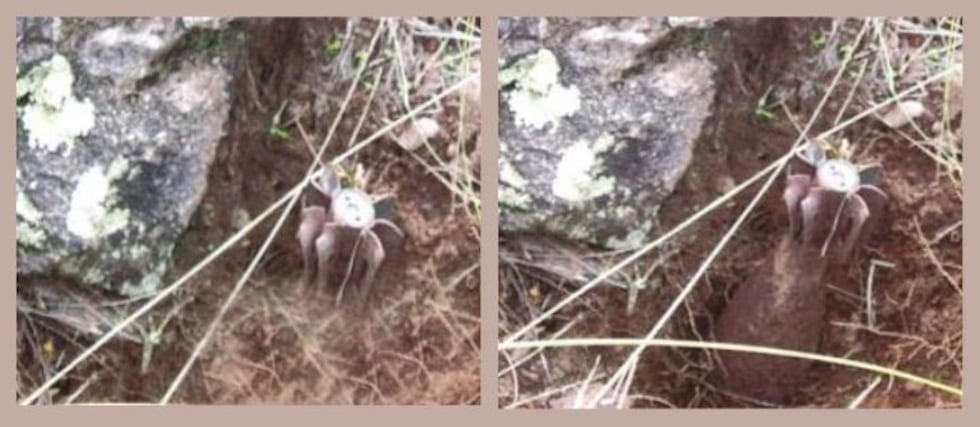 Officials say areas are prioritized based on risk, but community input also plays a role. And even after a site is swept, it doesn't mean all the hazards are gone. Instruments can't detect munitions that are buried too deep. Uneven terrain and high concentrations of iron in the soil also make it difficult to know what's really there.
"Every device has its limitation," Brown said.
HNN was invited to see first-hand how some of the equipment works at a munitions response site in Waimea, not far from Mamalahoa Highway.
It's the second time crews have inspected the site, which spans several thousand acres alone.
"We've done initial work earlier on in our process, in the early 2000s with doing a removal action, which was to address an immediate threat," said Lauren Zulick, chief of the Technical Integration Section for the Army Corps.
It was the first of several removal actions conducted at that particular site. Including one at Waimea Middle School.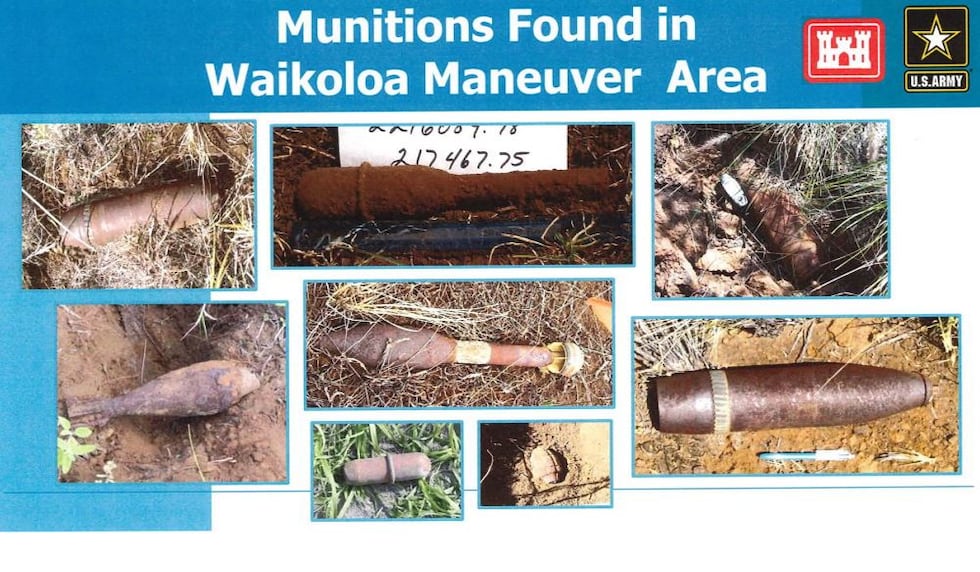 In 2002, a student discovered a hand grenade in the school's garden. It was the first of three found on the campus.
Across the entire site, crews found a total of 27 unexploded ordinances.
Technicians are now retracing the steps that crews took two decades ago ― and they're still finding explosives.
"We found four additional hand grenades and three practice land mines," Zulick said.
How long until that one site is completely cleared? Up to a decade, the Army Corps estimates.
Cleanup proceeding at snail's pace
For residents, the Waikoloa Maneuver Area cleanup hasn't just been tedious, it's been painfully slow.
Two decades in, officials say just two of the 22 munitions sites have been cleared.
"It's the process that we follow that takes a while for us to complete," Zulick said.
That process involves:
A remedial investigation to determine what hazards might be there, followed by a feasibility study.

Once that's done, a cleanup plan is drawn up.

Only after that preliminary work is complete can efforts to remove and safely detonate munitions begin.
BY THE NUMBERS:
This map clearly shows just how much munitions cleanup work is left in West Hawaii. Of the 100,000 acres in the Waikoloa Maneuver Area, less than 1% is classified as 'response complete.' That includes a 535-acre strip on Old Saddle Road (highlighted in yellow) and a 3.7-acre parcel on North Kawaihae Road (highlighted in teal). Clearing each those parcels took about seven years.
Once a piece of land is classified as "response complete," long-term management is usually required, including educating the public. That's because even though the parcel's been inspected, there's still a chance some explosives remain behind. Those old munitions "still maintain the ability to be destructive," said Zulick.
And that can pose a very big problem for construction projects.
"When you're doing digging in the ground, it's a big cause for concern for us," said Lindstrom, the DOH environmental specialist.
"The 2,700 that they found so far have been across about 30% of the area that was used for munitions training activities. So you have to assume at least that many more are out there. Probably even more than that."
Lindstrom adds that the Waikoloa Village of today "was in the center of that impact area."
And all these decades later, munitions hazards are still lurking just underground.
It's one of the reasons Waikoloa Village still lacks many of the basics.
There's no police station, no evacuation shelter and no public library. Evans, the council member, blames the hidden explosives for the slow pace of planning and construction.
"I think the UXO and the clearance has definitely slowed things down and will continue to slow things down if they don't listen to the community, really listen to the needs of the community and respond to that," she said.
Zulick said the government is trying to meet community needs and interests.
Completion date unknown
When asked if more money would speed things up, Zulick said not necessarily. As for the lengthy protocols to even begin work, "We want to look at other alternatives. But right now we're authorized to follow a process."
Perhaps the most frustrating thing for residents is the unknown.
Zulick said the "life cycle plan" for the current cleanup projects 30 years out ― until 2053.
But Lindstrom, of the Health Department, said that still might not be enough time.
"If the situation is going to be what it is now, which is even after they complete a site that there's still long-term management that's required, then the fact of the matter is they're never going to be finished here," he said.
Evans added, "I think the community has to be much stronger setting the priority for them."
As for that vision to build a library in Waikoloa, after 20 years of planning, things are starting to take shape.
The councilmember says land for a permanent library has been secured: A 2 1/2-acre parcel that belongs to the county recently became available. Now the focus has shifted towards funding the multi-million dollar project.
That's just one small example of the many challenges the area faces as they seek to build and expand.
And without changes, they're challenges the community will face for years to come.
"I think the community has to find those moments to influence the people making decisions," Evans said. "Not only with what the priorities are, but how the money is spent. These are community services and they deserve it."
Live in the impacted area? To provide input on which sites should be prioritized for munitions clearing, contact the Department of Health's Hazard Evaluation and Emergency Response Office.
There are also Restoration Advisory Board meetings held twice a year where the community is updated on the current status of the cleanup.
The next one is scheduled for May 23. A location has yet to be determined.
The Army Corps says one central message for residents is the importance of safety.
They teach the 3 Rs:
Recognize that what's found is a potential hazard.
Don't pick it up. Retreat Away.
Then report it immediately by calling 911.
Copyright 2023 Hawaii News Now. All rights reserved.