First Alert Forecast: Cold front stalls, showers and possible thunderstorms Tuesday through Thursday
Published: Mar. 27, 2023 at 5:30 AM HST
|
Updated: Mar. 27, 2023 at 9:53 AM HST
HONOLULU (HawaiiNewsNow) - It's going to be a nice Kuhio Day with mostly sunny skies, light winds and some afternoon clouds.
A cold front started to stall last night a few hundred miles northwest of Kauai, that means a few thunderstorms near midnight tonight for Kauai.
Unstable showers and thunderstorms are expected for Kauai and Oahu Tuesday through Thursday.
Maui County may miss a majority of the rain, plus lingering chances for isolated thunderstorms each afternoon over the Big Island triggered by strong surface heating above the trade wind inversion and sea breeze moisture.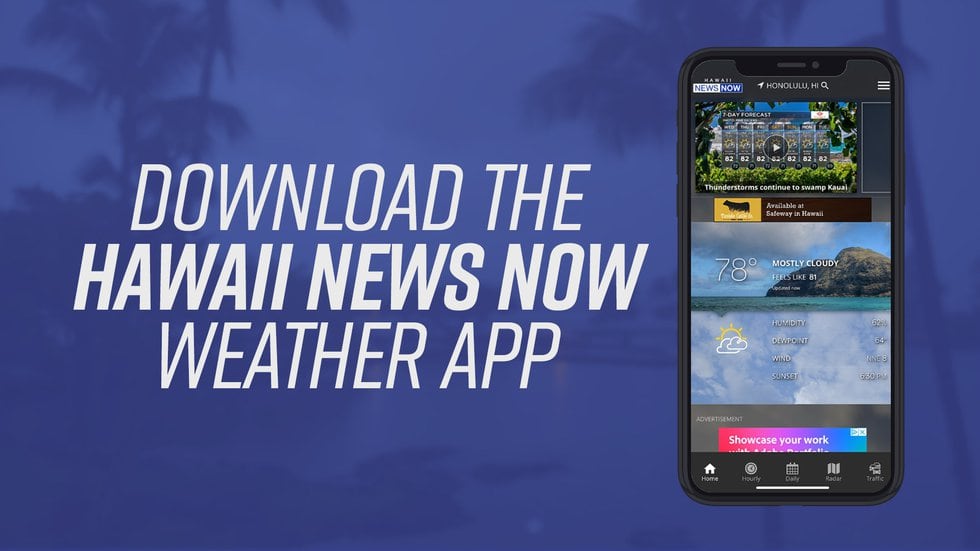 No Marine Warnings currently in effect.
The arrival of a small, medium period northwest swell has resulted in near head high surf along many north-facing shores. It will continue through tomorrow afternoon before the swell begins to slowly decline Monday evening through Tuesday.
A series of smaller northwest to north swells are expected to pass through during the second half of next week. Elevated wind wave chop along eastern exposures will continue the next few days.
Very small early to mid week bumps along southwest and southeastern shores will keep south-facing shore surf waist high, at best.
Get 10-minute weather updates, plus your 7-day forecast on Hawaii News Now Sunrise every weekday morning from 4:30 a.m. to 9 a.m. HST.
Copyright 2022 Hawaii News Now. All rights reserved.