Pickleball is wildly popular. So why is making room for more courts getting pushback?
Published: Mar. 7, 2023 at 7:03 PM HST
|
Updated: Mar. 8, 2023 at 11:42 AM HST
HONOLULU (HawaiiNewsNow) - A city plan to significantly expand the number of pickleball courts on Oahu is drawing concern from other park users, including tennis players.
In order to add nearly 70 pickleball courts to Oahu, the city says it plans to convert some tennis courts, like the ones at Kilauea District Park, to make room for the pickleball courts.
Some are saying that will have a negative impact on children.
"My little one was crying. She was really, really upset," said Bertha Scammon, whose daughter plays tennis for USTA Hawaii Pacific Tennis Club.
The concern is that the changes will significantly impact USTA Hawaii Pacific's tennis program.
However, the city points out there will still be nearly 190 tennis courts available throughout the island, and it won't just be tennis courts converted.
"We looked at courts that were underutilized across the island, whether that's tennis, volleyball, or basketball, and seeing how we can maximize their usage," said Nate Serota, spokesperson for the city Department of Parks and Recreation.
Coach Rusty Dyer with USTA Hawaii Pacific Tennis, told HNN he disagrees with which courts the city is determining as "underutilized."
"I don't think that's right at all. I mean, Kilauea is sustainably used," said Dyer.
He believes tennis is different from pickleball because it builds character in youth.
"Get the child away from the streets and get them in an organized program. They have the opportunity to discipline themselves," said Dyer. "Children don't play pickleball. That's it. Have you seen people playing pickleball that are children?"
The city says all age groups enjoy pickleball and only one of the four tennis courts at Kilauea District Park will be converted for pickleball.
Here's the city's full statement on the issue:
While pickleball may be popular with the older demographic because it requires less movement than tennis, it is a sport enjoyed by all age groups. I recommend talking to one of the many pickleball organizations to provide statistics on the demographics of pickleball players.
As we accommodate players of what is considered to be the fastest growing sport in the country, we try to be equitable in the types of courts being converted. Previously volleyball courts were largely impacted by our first effort to make more pickleball facilities. Our current inventory of 173 pickleball courts at 90 park locations are 90% multiuse courts and 10% dedicated pickleball. Multiuse meaning there are pickleball court lines on top of the existing basketball, volleyball, and tennis. Of those 7 out of the 90 park locations with multiuse lines are on tennis courts, as opposed to 71 parks with volleyball courts, 6 with basketball courts, and 6 parks with dedicated pickleball. So the vast majority of existing pickleball courts are on volleyball courts. Our dedicated pickleball website tells the whole story here.
Of the courts being converted as part of this latest effort nine out of the 17 park locations have tennis courts being converted, two parks with volleyball, three with basketball, and three are new/existing pickleball courts.
In summary, though tennis courts are being impacted the most by this round of court conversions, volleyball courts were impacted more during the first round. One way we are trying to offset this among the tennis community is by revising the outdoor court rules with the goal of being able to better manage the facilities we have and provide more recreational opportunities to our communities. You can find that info at the bottom of Thursday's news release.
Here is also the list of all the 20 courts at 17 parks that will be converted into pickleball: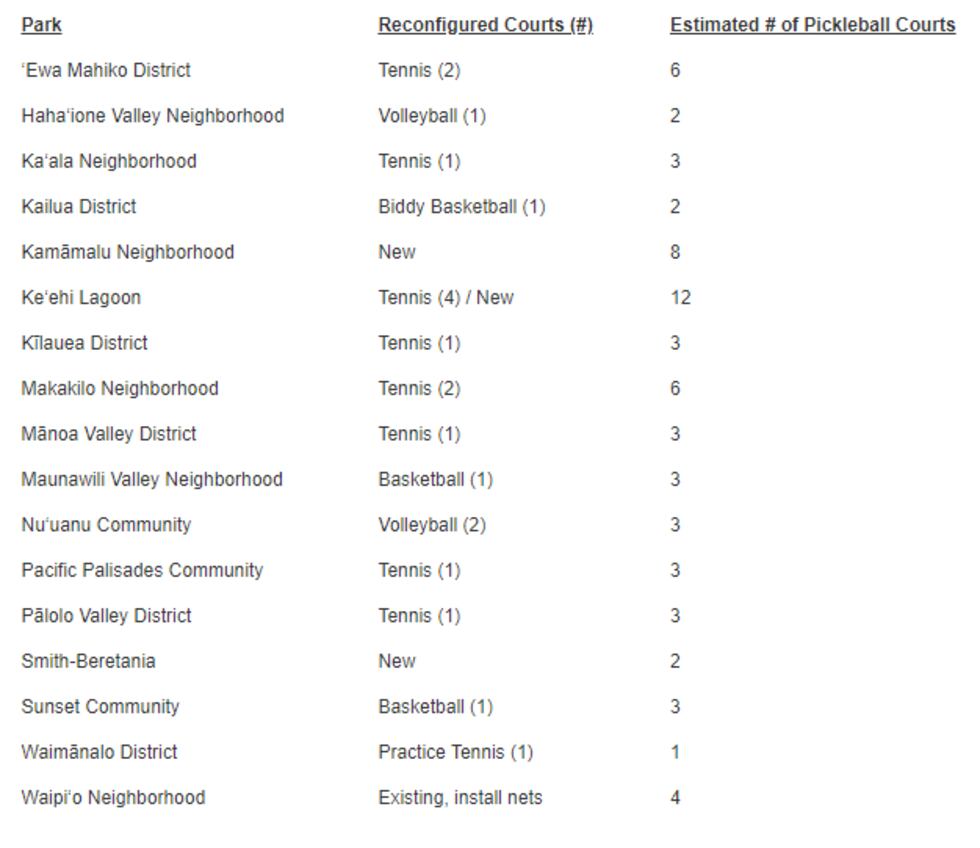 Copyright 2023 Hawaii News Now. All rights reserved.