Hawaiian monk seal Kaimana gives birth to Hawaii's first pup of 2023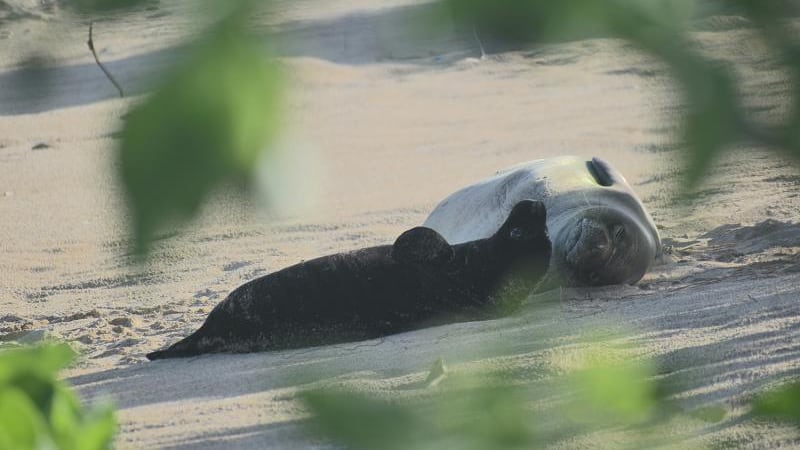 Published: Feb. 23, 2023 at 1:52 PM HST
HONOLULU (HawaiiNewsNow) - Hawaiian monk seal Kaimana gave birth to Hawaii's first pup of the year.
Kaimana is the daughter of Hawaiian monk seal Rocky — who became famous after giving birth on a popular Waikiki beach six years ago.
Kaimana became a mother on Jan. 28 to Uʻi Mea Ola — U'i for short.
A fifth-grade class at Kahuku Elementary gifted the Hawaiian name to the pup, meaning "beautiful survivor."
"Our goal with each naming is for the students, teachers and surrounding communities to learn a bit more about Hawaiian monk seals, their importance and conservation," said Emily Greene, HMAR's education manager.
"In addition, we hope that these students feel a sense of kuleana, or responsibility, to care for and conserve not only the pup they name but all monk seals and marine life."
Peak pupping season normally begins in spring.
The Hawaii Marine Animal Response encourages the community to give the seals space — recommending at least 150 feet on land and in water.
"We've been observing a lot of nursing and swimming behavior from the pair," said Jon Gelman, HMAR president. "We'll continue to be in the area until after Kaimana leaves, and the pup begins to venture off by itself."
Copyright 2023 Hawaii News Now. All rights reserved.