First Alert Weather Days for Kauai as more heavy rain develops
More rain coming our way
Published: Feb. 14, 2023 at 8:55 PM HST
|
Updated: Feb. 20, 2023 at 6:26 PM HST
HONOLULU (HawaiiNewsNow) - After a Kona low departs the islands, we are tracking another disturbance, this time an upper level low off of Kauai. With this setting up shop to our northwest, we are tracking the possibility of heavy rain now focusing over Kauai. Last time the focus was over the eastern end of the state, now the focus will be the western end. Under this moist, convergent, east to southeast flow, towering cumulus clouds with embedded heavy showers are flaring in a plume of deeper moisture west-northwest of the Big Island, around Kauai, and within a better defined convergent band setting up about 100 miles west of Kauai. While rain rates are down considerably from a couple of days ago, windward and southeast Big Island and Maui continue to experience active showers, dropping about 0.25 to 1.0 inch during the past 6 hours. Kauai has experienced similar rainfall during this time, but the southeasterly flow and higher instability on that end of the island chain has led to more widespread rainfall totals.
WHAT YOU NEED TO KNOW:
-Kauai and parts of Oahu should prepare for heavy rain and possible flooding tonight into Tuesday.
-In addition to heavy rains, residents are being urged to prepare for thunderstorms developing near or on Kauai at times.
-Snow will also be spreading over Mauna Kea and Mauna Loa.
TIMING OF FIRST ALERT RAIN: Tonight into Tuesday for Kauai with a First Alert Weather Day
Our First Alert Rain Model shows the heaviest showers developing over the Garden Isle with about 1 inch to 5 inches on Kauai within the next 36-hours.
*Flood Watch for Kauai until Tuesday evening
We will be also focusing on Oahu and Hawaii Island in red with First Alerts due to the already saturated grounds and the concern for heavy downpours.
Our First Alert Rain Model still shows 1 to 3 inches on Oahu.
*Flood Watch for Oahu until Tuesday evening
Our First Alert Rain Model shows about an inch and half over Hawaii Island
On Hawaii Island summits, several feet of drift snow has been blanketing over the volcanic mountain and Mauna Kea can expect more snow with several inches and very poor visibility with drifting snow. Winter Weather Advisory is up through Tuesday evening.
Radar indicated scattered heavy showers continuing to develop across central and southern Oahu, while additional rainfall is moving onto windward areas. Rain was falling at a rate of 1 to 1.5 inches per hour with some of these downpours and that is bringing runoff and ponding on the roads for now that will turn to some flooding later. Where there are thunderstorms, it will be a concern within the next 24-hours especially for the western end of the state.
The rain on Maui County will be much less, but some isolated downpours there are possible with a trace to 3/4″ of rain and isolated downpours over mauka 1″.
OUR ISLAND OUTLOOK: Wet conditions will persist for much of the state during the next couple of days under a continued moist east to southeast wind flow, and chances for flooding rainfall will increase across the western end of the island chain tonight as a deep low settles several hundred miles west of Kauai. The low will weaken and drift away from the state Wednesday and Thursday, decreasing the flood threat and allowing a breezy trade wind flow to develop from east to west. Somewhat wet and breezy trade winds will prevail late in the work week and into the weekend.
WINDS LATER THIS WEEK: And hold on, it will get windy! Breezy trade winds generated by strong high pressure far to the northeast of the state are increasingly veering southeasterly across the island chain, as they are drawn into the low northwest of Kauai. Winds will then get very breezy later this week with gusts over 30 mph.
SURF: Surf along east facing shores will remain rough through the week due to persistent and strong east to southeast winds. Surf will likely return to the 10 foot advisory level tonight into Tuesday due to the strong easterly trade winds upstream over the eastern Pacific. East shore surf then appears to hold at or near advisory levels through the weekend.
HNN issues First Alert Weather Day for Kauai tonight into Tuesday
Flood watch issued statewide ahead of system expected to bring heavy rains for Kauai and Oahu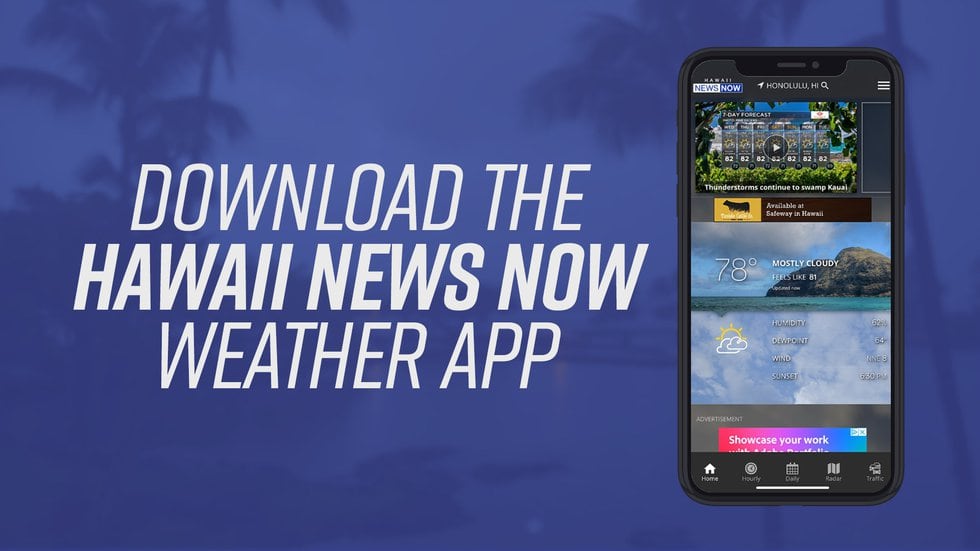 Copyright 2023 Hawaii News Now. All rights reserved.