State: All eastbound lanes on H-1 Freeway will be closed overnight for resurfacing work
Published: Feb. 14, 2023 at 5:32 AM HST
|
Updated: Feb. 14, 2023 at 11:36 AM HST
HONOLULU (HawaiiNewsNow) - For several months, state crews have been managing to keep at least one lane open for this resurfacing project but not anymore.
The overnight work will now require the entire shutdown of the H-1 Freeway's eastbound lanes from Punahou to University.
The repaving project started in November.
Hawaii's Department of Transportation said it's one the busiest roadways with over 125,000 trips made daily.
The state said all east-bound lanes are closed for the contractors' safety.
"That work needs to be done at night just for safety sake for our contractors," said Jai Cunningham, spokesperson of HDOT.
"It really is it's difficult to just have lane closures on a freeway with the speeds that the cars go."
There is only one detour and drivers are being re-routed to Punahou Street.
From there you make a right, go down a couple of lights then make a left on to King Street, which has between four to five lanes.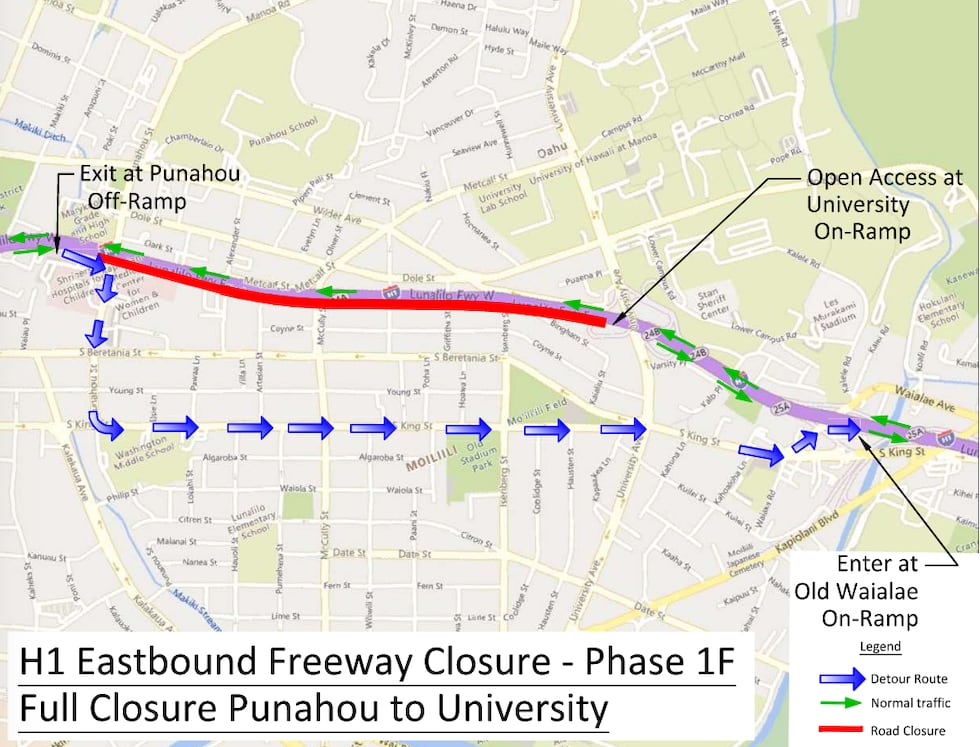 There's open access at the University on-ramp.
Some people say they don't mind the detour while others said it's take some time to get to the off-ramp.
"It seems to move pretty good and it's late at night so it's a little detour, but that's alright," said Dana Silva of Honolulu.
"Kind of crazy, lots of waiting," said Brant Cruz of Pearl City. "Everything's kind of like bumper to bumper when you reach by near the Punchbowl off-ramp like that area is where it starts."
"It's about 11 o'clock during a weekday, you don't expect it at that time because everybody would be at work or anything," said Mariah Matapua. "But I get stuck in that traffic maybe half an hour."
The closure is between 8:30 p.m. to 4:30 a.m. from Monday through Thursday.
The project is slated to end by May.
To sign up for updates on roadwork and lane closures, head to HDOT's website.
Copyright 2023 Hawaii News Now. All rights reserved.