First Alert Forecast: Wet and unstable weather pattern to dominate the week
Published: Feb. 12, 2023 at 3:07 PM HST
Widespread showers with locally heavy rainfall and isolated thunderstorms will be possible into Monday, mainly for windward areas of the islands of Hawaii and Maui. The wet weather will shift to the rest of the island chain by Tuesday, with a potential for more heavy rain over parts of the state by the end of the week.
The islands are beneath a cold upper-level disturbance will be responsible for the wet weather this week. This disturbance will slowly drift westward over the next few days, dragging up more moisture and resulting in a higher coverage for moderate to locally heavy trade wind showers.
First Alert: There's the potential for flooding rains during the latter half of the work week, as the upper disturbance is forecast to become stronger with the overall wind flow coming from the southeast. That will draw up more moisture that will be enhanced by the colder temperatures aloft. Bottom line is that heavier rain and flooding will be a possibility from Thursday toward the upcoming weekend.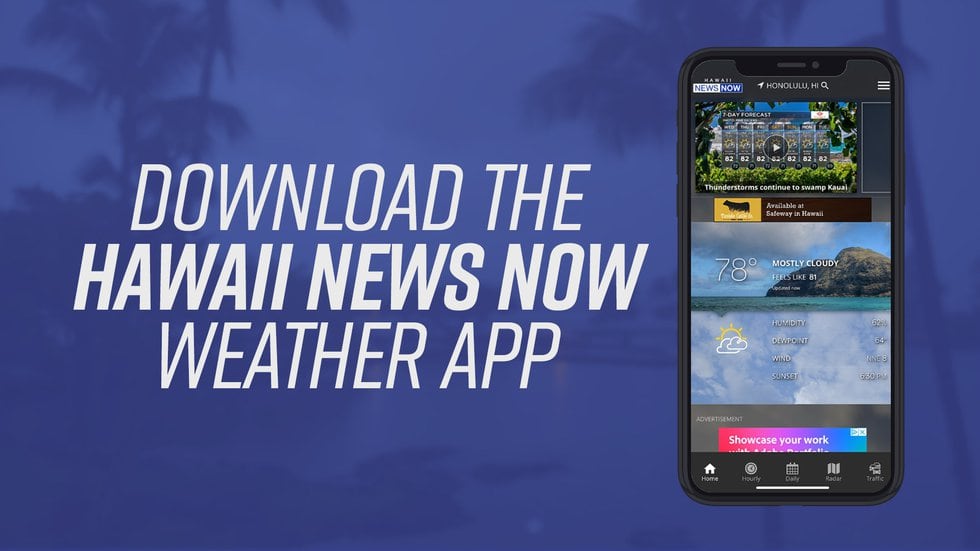 In surf, a high surf advisory will remain in effect overnight for east-facing shores of most islands due to the rough and large trade wind swell. A pair of northwest swells will push surf on north shores very close to advisory levels Monday and then again Thursday. South shores will have small waves this week.
Current alerts include a winter weather advisory for areas above 11,000 feet on Mauna Kea and Mauna Loa. At sea level, a small craft advisory is in effect for all coastal waters due to strong winds and high seas.
Copyright 2023 Hawaii News Now. All rights reserved.