First Alert Forecast: Showers diminishing for Sunday
Published: Feb. 4, 2023 at 4:31 PM HST
The threat of heavy rain and thunderstorms is diminishing for the latter part of the weekend. There's still a slight chance of thunderstorms during the overnight hours, but overall, weather conditions are becoming more stable.
An upper level disturbance to the south of Kauai has combined with a pool of moisture to increase showers for the western end of the state. The disturbance is forecast to weaken into a trough and lift away from the islands, reducing the thunderstorm threat. Showers will still be possible for the eastern half of the state, especially for windward areas. Some thunderstorms may still be possible into Sunday afternoon for the island of Hawaii.
More typical trade wind conditions will build from west to east as Sunday progresses. We have a first alert for you to expect stronger and locally windy trade winds starting Monday and lasting through much of the coming week.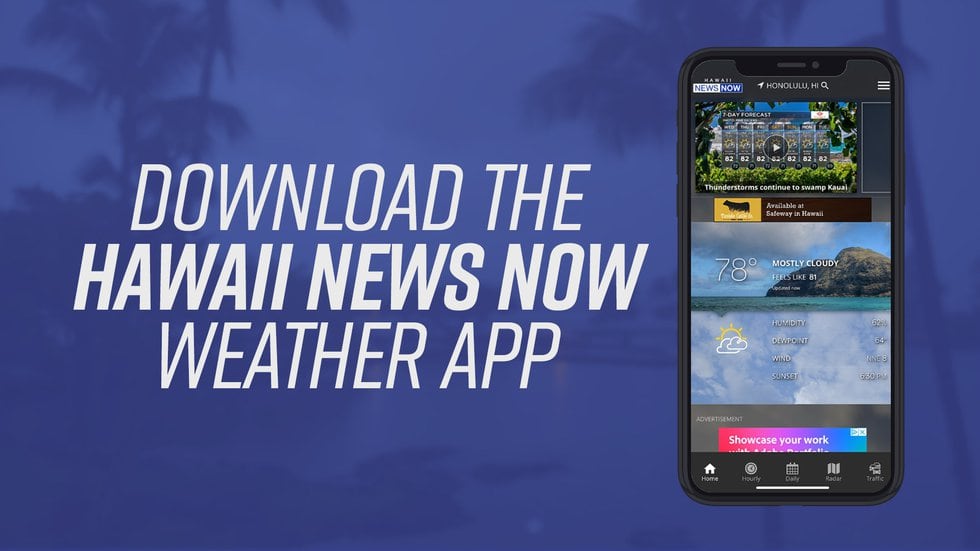 In surf, a northwest swell will be peaking overnight and holding Sunday, with chest to head-high sets for north shores. Another northwest swell is expected Tuesday, with a larger swell that could bring advisory level waves to north and west shores on Thursday.
East shores will see increasing waves with the strengthening trade winds for the next several days. South shore surf will remain on the smaller side as a south swell fades
For mariners, a small craft advisory is posted for all coastal waters until 6 p.m. Sunday.
Copyright 2023 Hawaii News Now. All rights reserved.