Forecast: Stormy weather to persist today, calmer conditions due on Tuesday
Published: Jan. 30, 2023 at 4:33 AM HST
|
Updated: Jan. 30, 2023 at 1:40 PM HST
HONOLULU (HawaiiNewsNow) - Hawaii News Now has lifted its First Alert Weather Day declaration, but thunderstorms, strong winds and potential flooding continue to threaten parts of the state.
A disturbance near Maui County will act as a focus for cloud and shower development over all islands as it moves slowly west through Monday.
A strong upper-level low to the west is destabilizing the atmosphere, bringing heavy showers that could result in flooding.
Multiple weather alerts are in effect.
With already saturated grounds, any additional rain may bring big concern that are weather related with utility poles and boulders, downed trees and running streams.
Initially, most of the rain will likely impact Kauai and Hawaii Island Monday with more isolated to heavy pockets over Mauka and Windward neighborhoods later in the day.
The public is advised to not drive through fast-moving water and heavily flooded areas.
The potential for heavy showers will gradually diminish Monday night and Tuesday as winds become light for most of the week. Trade winds may return by the end of the week.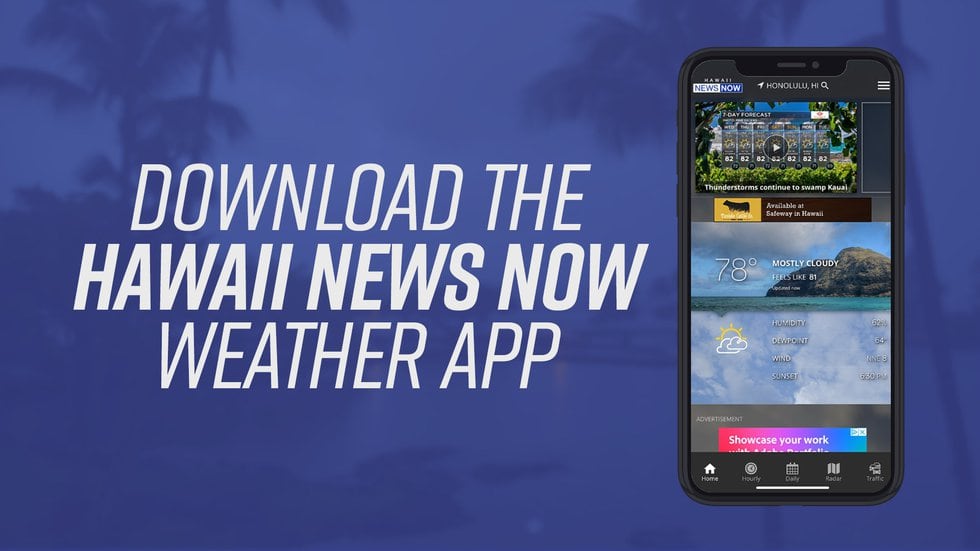 A High Surf Advisory (HSA) has been issued for most north and west facing shores from Kauai through Maui, as well as east facing shores of Kauai.
Another, moderate northwest swell is due midweek, along with a possible small pulse of south swell.
Get 10-minute weather updates, plus your 7-day forecast on Hawaii News Now Sunrise every weekday morning from 4:30 a.m. to 9 a.m. HST.
Copyright 2022 Hawaii News Now. All rights reserved.