First Alert Forecast: Another round of extreme rainfall into Monday
Published: Jan. 29, 2023 at 2:43 PM HST
Unsettled weather will continue and spread statewide, with the flood watch expanded to include Kauai County and extended until 6 p.m. Monday.
A kona low is forecast to form just to the west-southwest of Kauai, bringing increasing moisture and instability over the islands. Very heavy rainfall will be possible, mainly for windward and mauka areas, but some intense downpours could also develop in leeward locales and flood normally-dry streambeds.
Keep in mind that the ground is already saturated lot of areas, especially in Maui County, so any rain that falls could quickly develop into flooding and fast-moving runoff. Be prepared to take quick action if a flash flood warning is issued for your area, or if you experience extremely heavy rain.
The system is also bringing more moisture to Hawaii Island, including the summits of Mauna Kea and Mauna Loa, which are under a winter storm warning for freezing rain and heavy snow. There's already snow on the summits, and the road to the top of Mauna Kea is closed.
Strong northeast winds are still expected overnight for Kauai and Oahu, with a wind advisory extended through 6 a.m. Monday.
The forecast models are pointing to improving conditions starting as soon as Monday night into Tuesday as the low weakens and moves westward and away from the islands.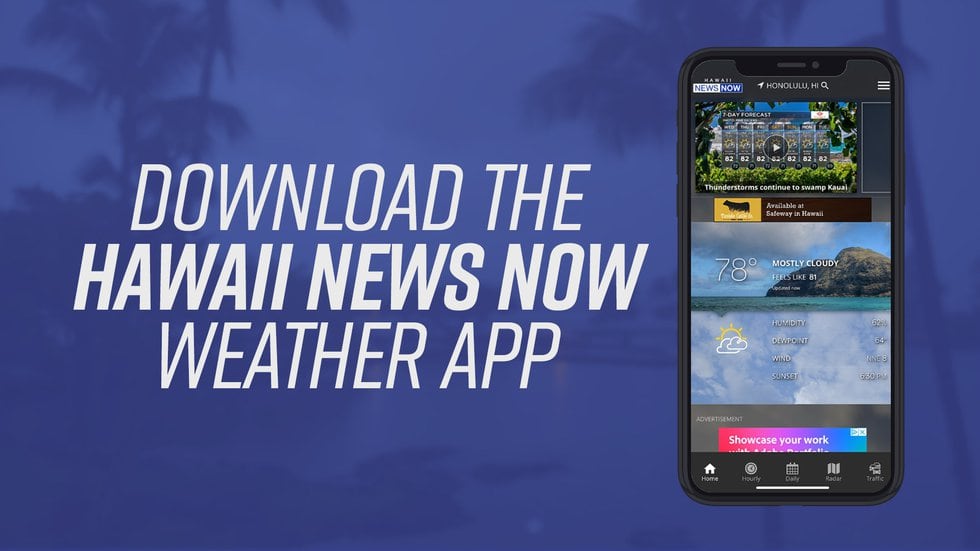 The weather won't be that great for surfing, even though there's a new northwest swell expected to peak Monday. A high surf advisory has been posted until 6 p.m. Monday for the north and west shores of Niihau, Kauai, Oahu and Molokai, north shores of Maui and the east shores of Kauai.
Surf will be elevated but rough for east shores due to stronger trade winds, with waves remaining below advisory levels except on the Garden Isle.
South shore waves will be small through midweek, when a small boost is possible.
For mariners, a small craft advisory is in effect for most coastal waters due to high seas and strong winds.
Copyright 2023 Hawaii News Now. All rights reserved.