First Alert Forecast: Wet weather, threat of thunderstorms into weekend
Published: Jan. 28, 2023 at 4:20 PM HST
|
Updated: Jan. 29, 2023 at 9:38 AM HST
A flood watch remains posted for all islands except Kauai County as a slow moving surface trough lingering over Maui County will keep wet weather conditions over most of the state for the next few days. The potential for heavy rain and thunderstorms will affect Oahu through Hawaii Island, but the highest threat will be over Maui County, which has already been soaked from several days of downpours.
The moisture and instability will likely spread to Kauai by Sunday night, and the flood watch may be expanded there. The flood watch may also be extended into Monday for the rest of the island chain. Right now, the watch is in effect until 6 p.m. Sunday.
Sunday into Monday, the surface trough will move westward while an upper disturbance to the west is forecast to develop into a kona low, keeping the potential for heavy rain, thunderstorms and flooding over the islands.
The system is also boosting winds for Kauai and Oahu, where a wind advisory is now in effect. Winds will be much lighter for Maui County and Hawaii Island.
Fewer showers and lighter trade winds are expected to gradually move in Tuesday, with nighttime and morning showers, mainly for windward and mauka areas into the end of the coming week.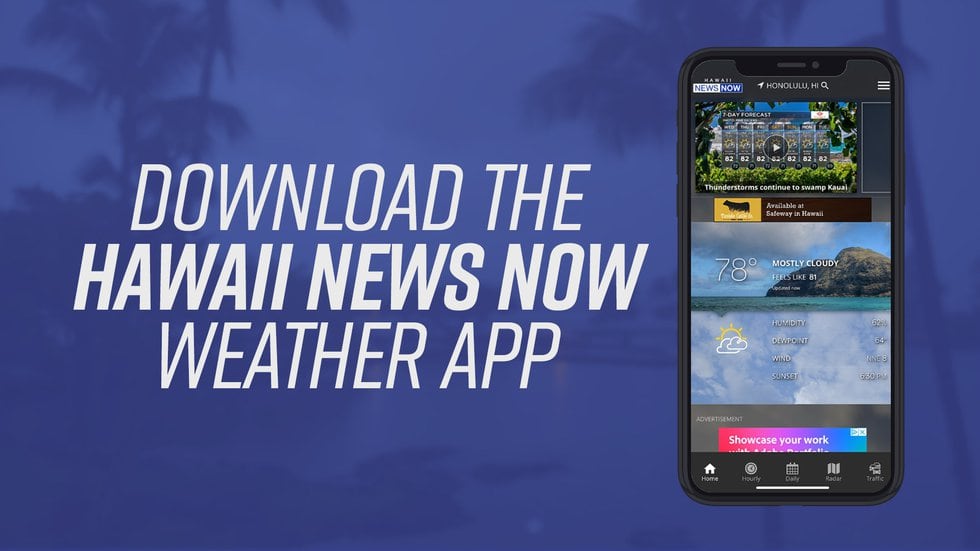 In surf, a new northwest swell will boost waves on north and west shores close to low-end advisory levels into Monday before subsiding Tuesday. East shore surf will and rather choppy with increasing trade winds. South shore waves will remain small Sunday, but could rise a little bit Monday and Tuesday with the arrival of a small, long-period south swell.
Copyright 2023 Hawaii News Now. All rights reserved.