A decade in the making: Hawaii County breaks ground on tiny homes 'kauhale' village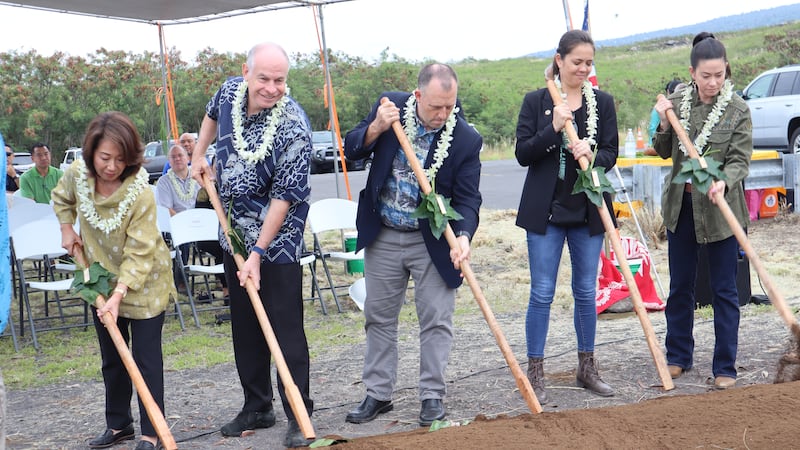 Published: Jan. 26, 2023 at 4:41 PM HST
|
Updated: Jan. 26, 2023 at 7:05 PM HST
HONOLULU (HawaiiNewsNow) - A ceremonial groundbreaking was held Thursday for a new village on Hawaii Island aimed at offering both emergency and permanent housing to homeless people.
Located on the Kona coast, It will be the first so-called "kauhale" ever built on a neighbor island.
But this village will have a distinct difference from the ones on Oahu.
In addition to providing permanent homes for the homeless, the Hawaii Island kauhale will also provide temporary shelter for people looking to get off the street.
No other kauhale offers both permanent and emergency housing in one place. All of it will come in the form of tiny homes.
New transitional 'kauhale' village for the homeless planned for urban core
The site is located on six acres in Kealakehe, and authorities hope the project will offer a fresh start for those most in need.
On Thursday morning, Hawaii Island Mayor Mitch Roth alongside the governor broke ground on what will be dozens of new homes for the homeless. It's a project more than a decade in the making.
"The feeling is great. This has been a long time coming," Roth said.
The community, coined Kukuiola, will be made up of 64 tiny homes.
The plan is to use a a quarter of those units for emergency shelter and the rest for permanent housing.
The site will also offer a community kitchen and homeless assessment center.
"The county and the county's non-profit and private sector partners here, they deserve so much credit for the determination and the persistence to get this done," James Koshiba, the governor's coordinator on homelessness.
Officials say all the prep work for this village happened prior to the governor signing off on a statewide emergency proclamation on homelessness earlier this week.
The mayor said permitting and procurement hurdles are among the reasons the project took so long to get off the ground.
"There were hoops that we had to jump though that if we had this emergency proclamation in place, we probably wouldn't have had to do," Roth said.
Hurdles like retesting the soil, even though he says samples had already been OK'd for another project in an almost identical area.
Gov. Josh Green said the proclamation isn't about skirting laws, but being strategic to address a crisis.
"We will be careful about the aina," he said.
Looking ahead to future kauhale, Green vowed that accelerating the process wouldn't have a negative impact.
"The truth is when people are spread out in clusters of 20, or 50 or 100, the environmental impact is very significant," Green said. "So creating kauhale in an expedited fashion will save lives and it will also protect our lands."
The governor's vision is to build at least 12 kauhale statewide.
Nani Medeiros, the state's first Chief Housing Officer, said there are now three kauhale on Oahu and a fourth in development.
In her newly-created position, she'll "help coordinate and leverage as much as we can between our city, state and federal resources," she said.
"Whether it's land or infrastructure, or funding. And helping them put together these projects. And really bird dog them and make sure they don't get stuck."
Hawaii County officials say the hope is to have the first 16 homes, the kitchen and the homeless assessment center completed next year. Officials say the majority of the village is funded by $10 million in federal funds secured by Hawaii's congressional delegation.
Copyright 2023 Hawaii News Now. All rights reserved.