In State of the Judiciary, chief justice talks about court reforms ... and correcting mistakes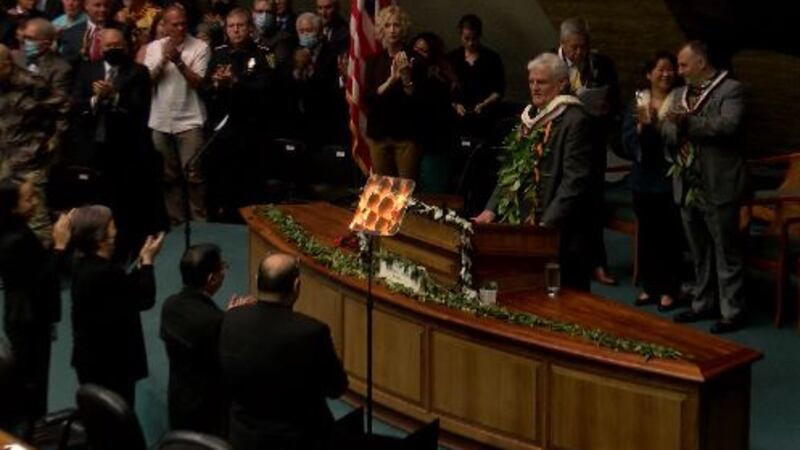 Published: Jan. 25, 2023 at 6:07 PM HST
HONOLULU (HawaiiNewsNow) -The leader of Hawaii's courts system and legislative leaders responded Wednesday to Tuesday's exoneration of Albert Ian Schweitzer for the murder of Dana Ireland.
Chief Justice Mark Recktenwald delivered his annual State of the Judiciary address to a joint session of the state Legislature on Tuesday morning, focusing on successes and challenges facing the third branch of government.
One major issue: Dealing with offenders who constantly cycle in and out of the system without rehabilitation.
"We must stop that revolving door," Recktenwald said, referring to offenders who are mentally ill, have substance abuse issue ― or both. He also cited the success of non-traditional courts set up to deal with the homeless, drug offenders and veterans and called for expansion of a program to divert mentally unfit defendants to treatment.
"All of us ― the Legislature, the Executive Branch, and the Judiciary ― are strongly committed to resolving the mental health emergency afflicting our community," Recktenwald said.
"Let's seize the opportunity and work together."
The chief justice also cited strides in technology due to the pandemic that he said will continue to make courts more accessible and efficient.
In his speech, Recktenwald did not mention Tuesday's exoneration of Albert Ian Schweitzer, who spent 23 years in prison after being wrongly convicted for Ireland's murder.
When reporters asked for his reaction, he said judges should learn from exonerated cases.
After 23 years in prison, man convicted in Dana Ireland's murder is exonerated and set free
"As a system we always need to be self-aware and try to figure out how we can get better and what lessons we draw from any case," Recktenwald said.
"There is a constant process of evaluating ourselves both individually and as an institution to get better."
Lawmakers focused on the court's willingness to correct the injustice after new technology allowed for a review of the forensic evidence.
"I think this is an example of using new technology and applying it to make sure that justice is served," said House Judiciary Chair Rep. David Tarnas.
Sen. Karl Rhoads, chair of the Senate Judiciary Committee said Schweitzer ― 51 ― will be compensated for the wrongful incarceration and have a chance to live many more years.
"There are no perfect judicial systems so that unfortunately there is going to be a really horrible mistake like this and this is one reason I am opposed to the death penalty," Rhoads said.
House Republican Rep. Kanani Souza, the only lawyer among legislative Republicans and a former part of the Innocence Project team in law school, is introducing a bill to make it easier to reassess convictions.
"It would basically allow the judges to have that leeway to hear the evidence from before and reevaluate the evidence based on new science or whatnot," she said.
Copyright 2023 Hawaii News Now. All rights reserved.