FIRST ALERT: High surf warning extended into Monday afternoon for most north, west facing shores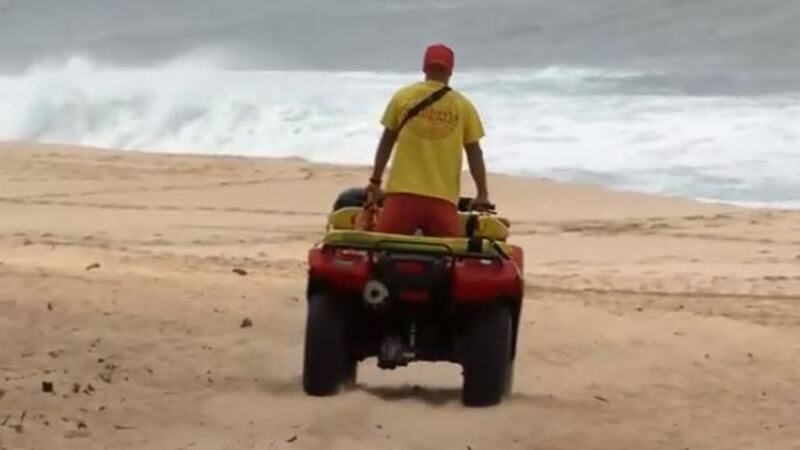 Published: Jan. 21, 2023 at 9:53 AM HST
|
Updated: Jan. 22, 2023 at 2:33 PM HST
HONOLULU (HawaiiNewsNow) - A high surf warning has been extended until 6 p.m. Monday for most north and west facing shores as a northwest swell is expected to remain huge and dangerous.
The Honolulu National Weather Service said the warning is in effect for the north and west shores of Niihau, Kauai, Oahu and Molokai and the north facing shores of Maui.
A high surf warning will also continue for the west shores of the island of Hawaii.
A high surf advisory has also been issued for the west shores of Maui and Lanai.
Surf was expected to peak at 45 to 55 feet for most north shores Sunday afternoon, lowering slowly to 30 to 40 feet Monday morning and 20 to 30 feet by Monday afternoon.
West shores in the warning area were forecast to peak at 25 to 35 feet, lowering to 15 to 20 feet by Monday afternoon.
Large waves may impact beachfront properties and coastal infrastructure, and may also result in road closures due to over wash with sand and other debris.
The threat will be highest during the early-morning hours Monday, when very high tides are forecasted.
Waves for the west shores of the island of Hawaii are forecast to peak at 12 to 16 feet by Sunday evening.
On west shores of Maui and Lanai, waves are expected to rise up to 12 feet.
Organizers of "The Eddie" gave a "go" for the renowned big-wave invitational surf meet Sunday, drawing tens of thousands of spectators.
Beachgoers are urged to stay out of the water and away from shorelines due to the hazardous conditions. Large waves at Waimea Bay occasionally swept up the beach, knocking over spectators.
The swell will also generate moderate to locally strong currents in exposed harbors, along with large waves breaking in channel entrances.
Some harbors affected will include Kikiaola on Kauai, Waianae and Haleiwa on Oahu, Kaumalapau on Lanai, and Honokohau and Kawaihae on Hawaii Island.
This story will be updated.
Copyright 2023 Hawaii News Now. All rights reserved.