5 years ago today, a false missile alert threw Hawaii into a panic
Published: Jan. 13, 2023 at 9:44 AM HST
|
Updated: Jan. 13, 2023 at 10:41 AM HST
HONOLULU (HawaiiNewsNow) - Exactly five years ago on Friday, Hawaii residents and visitors woke up to a terrifying emergency alert on their cell phones that sent a wave of panic across the state.
The message warned of a ballistic missile heading for Hawaii.
It read, "BALLISTIC MISSILE THREAT INBOUND TO HAWAII. SEEK IMMEDIATE SHELTER. THIS IS NOT A DRILL."
That was on Saturday, Jan. 13, 2018.
It took nearly 40 minutes for officials to issue a correction. But after the shock wore off, many were left with frustration and anger.
Vern Miyagi, the head of Hawaii Emergency Management Agency, resigned in the aftermath. Toby Clairmont, the executive officer of HI-EMA, also resigned in the wake of the bogus missile alert.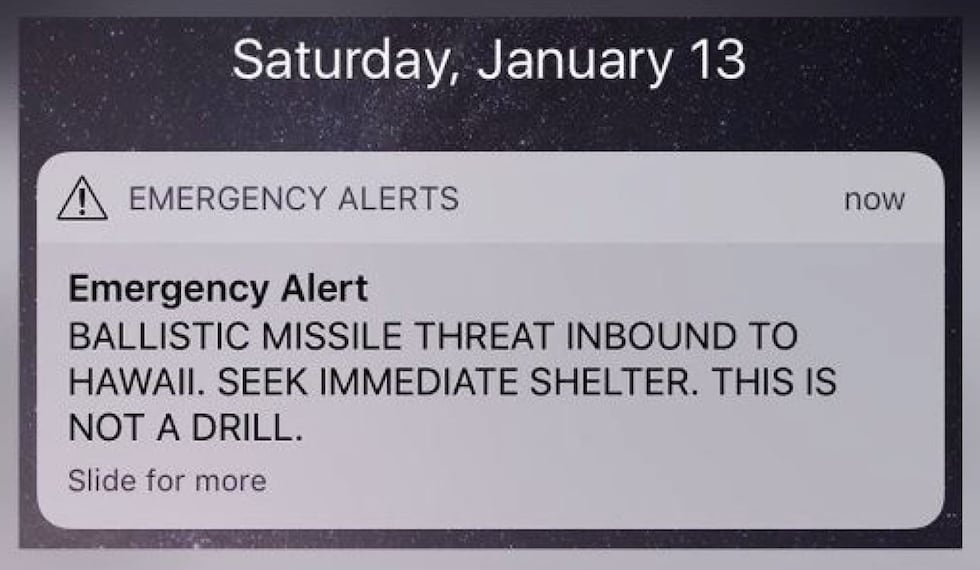 The unidentified worker responsible for the false missile alert was fired and relocated to the mainland.
A state investigation claimed the man was a problem employee, but his attorney said the man was made to be the scapegoat and that the false missile alert was the result of miscommunication.
In the years since the false alert, there were investigations and a host of changes made in hopes of preventing a similar mistake.
A year after the alert, Tom Travis, the then-administrator of HI-EMA, told Hawaii News Now that "all of the ballistic missile alarms have been shelved."
That includes emergency alerts via cell phone and outdoor emergency sirens, he said.
Another change: The FCC issued new rules for how emergency alerts are sent.
Copyright 2023 Hawaii News Now. All rights reserved.