Advances in DNA research help HPD link suspect to 1994 murder in Waikiki
Published: Apr. 14, 2022 at 7:32 PM HST
|
Updated: Apr. 15, 2022 at 2:16 PM HST
HONOLULU (HawaiiNewsNow) - Honolulu police say they now know who killed Lisa Fracassi in 1994.
Thanks to new DNA testing, investigators have concluded that Cecil H. Trent was likely the one responsible for the murder. He was 29 years old at the time of the murder. Fracassi was 37.
Police said Trent died in Honolulu in 2013. He was never arrested for the case, but they believe he was likely the only suspect in the murder.
They used DNA testing along with a closer examination and comparison of fingerprints to solve the case.
"It's law enforcement saying 'we have time to go back,' and let's look at the DNA in that case and see if there's some kind of new technology that can be used to make that DNA usable today with today's technology," said Debra Allen, a private investigator with 808 Investigations.
Fracassi's body was found lifeless in her Waikiki apartment along Nahua Street on Nov. 3, 1994. Prior to that, she was last seen in the early morning hours of Oct. 31.
An obituary that ran in the newspaper following her death said she was an exotic dancer at a nightclub, but aspired to be a nurse. Reports at the time indicated she had been strangled to death.
Allen has also worked with companies using DNA evidence to solve cold cases, but was not involved in the Fracassi murder investigation.
Allen said in 1993, law enforcement began storing DNA evidence in a way that avoids contamination.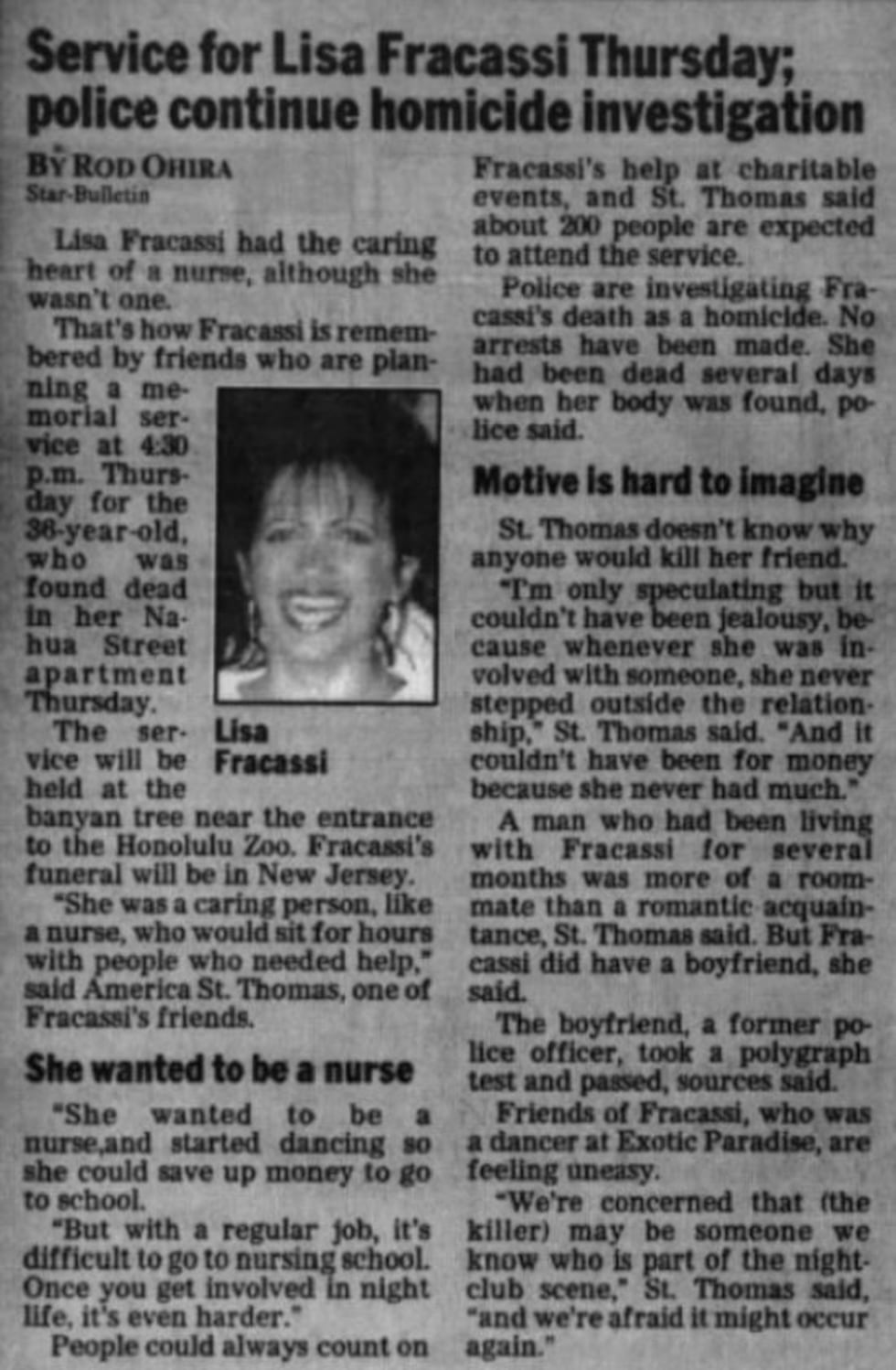 Honolulu Police said in 2020, DNA and fingerprints in the case were given to Parabon NanoLabs, which specializes in forensic genealogy research. That's where world-renowned genealogist CeCe Moore — who's helped police solve dozens of cold cases — identified Trent as the primary suspect in Fracassi's murder.
Trent's family said he died at the age of 48 from congestive heart failure.
It's not just DNA technology that's helping; it's also a larger database that's being made available to law enforcement.
"His relatives at some point uploaded their DNA to a public DNA site called GEDMatch," said Allen. "From there, they may not even know that he did something."
Allen said investigators cannot access or use information from private genealogy sites like Ancestry or 23andMe. But that information can be uploaded to GEDMatch.com, and users can opt in to hep crime investigations.
"Could have been adopted or through an affair or however. They may not even know that person. It could be five or six generations away from them, but you're able to help law enforcement," said Allen.
Copyright 2022 Hawaii News Now. All rights reserved.