Forecast: Trade winds have dropped off for now
Overall, lovely weather
Published: Dec. 10, 2021 at 4:40 AM HST
|
Updated: 1 hours ago
HONOLULU (HawaiiNewsNow) - Good Thursday evening everyone. Hope you are having a terrific week. Current temps are quite pleasant. It sure has been a nice day.
Mainly dry weather will continue through Friday, and a dominant land and sea breeze regime will produce interior clouds and a slight chance of showers each afternoon, though windward Big Island and Maui could see a light shower at any time. Expect an uptick in trade winds Saturday with limited windward rainfall. A weak front may brush the state early next week and decrease winds. A short-lived increase in trade winds will occur Friday night and Saturday. The above mentioned front will dissipate before reaching the islands, and a following surface high will quickly pass north of the state, leading to a brief period of gentle to moderate trade winds.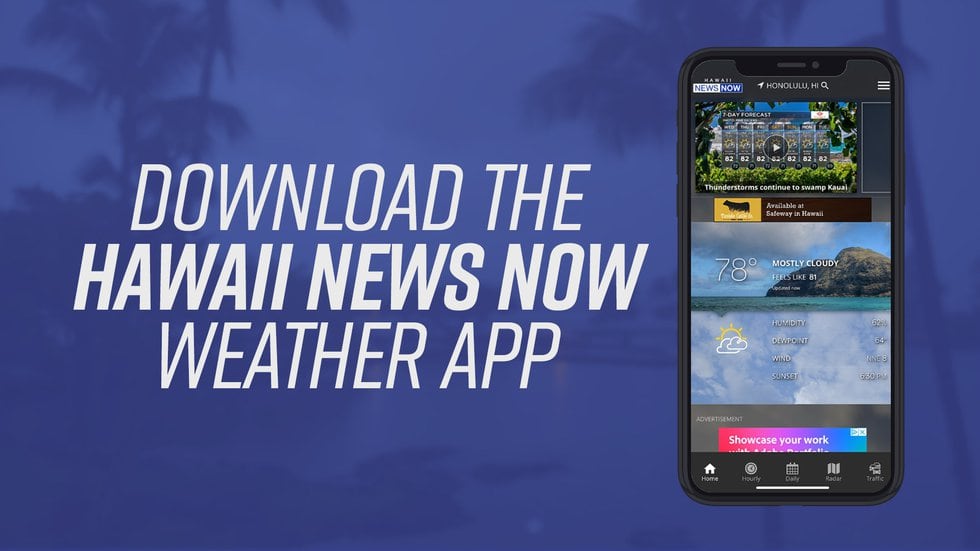 Let's talk surf: The current northwest swell will slowly decrease today and tonight and remain below advisory thresholds through Friday afternoon. The next in a series of northwest swells will arrive by Friday night, pushing surf heights along exposed north and west facing shores into the low end High Surf Advisory, HSA, range. Another larger northwest swell arrives on Tuesday morning with solid HSA conditions expected from Tuesday into Wednesday. South shore surf will remain very small today and tomorrow, with a small boost possible from Friday into the weekend. Very small surf will continue along east facing shores into early next week.
Get 10-minute weather updates, plus your 7-day forecast on Hawaii News Now Sunrise every weekday morning from 4:30 a.m. to 9 a.m. HST. with Guy Hagi and team. And enjoy updates on the weather throughout the evening starting at 4 p.m. until 7 p.m. and then again at 9 p.m. and 10 p.m. with Meteorologist Jennifer Robbins on Hawaii News Now. And weekend nights with Ben Gutierrez.
Copyright 2021 Hawaii News Now. All rights reserved.