Forecast: Threat of rain is winding down, Kauai remains under a Flood Watch but likely won't receive substantial rain with the kona low moving away from the state
Kona Low
Published: Dec. 7, 2021 at 5:08 AM HST
|
Updated: Dec. 7, 2021 at 7:00 PM HST
HONOLULU (HawaiiNewsNow) - A Kona low northwest of the islands has brought record rain to the islands. Yesterday Honolulu shattered the date's record for rainfall and is in the record books for the second single highest day for rainfall with 7.92″ As far as storm totals, the state received up to 15 inches with the influence of this Kona low.
A drier airmass moving in from the east has begun to reach the Big Island and Maui County, where the threat of significant flooding has diminished.
A breezy and drier trade wind weather pattern will spread over all islands by Thursday, continuing into the weekend.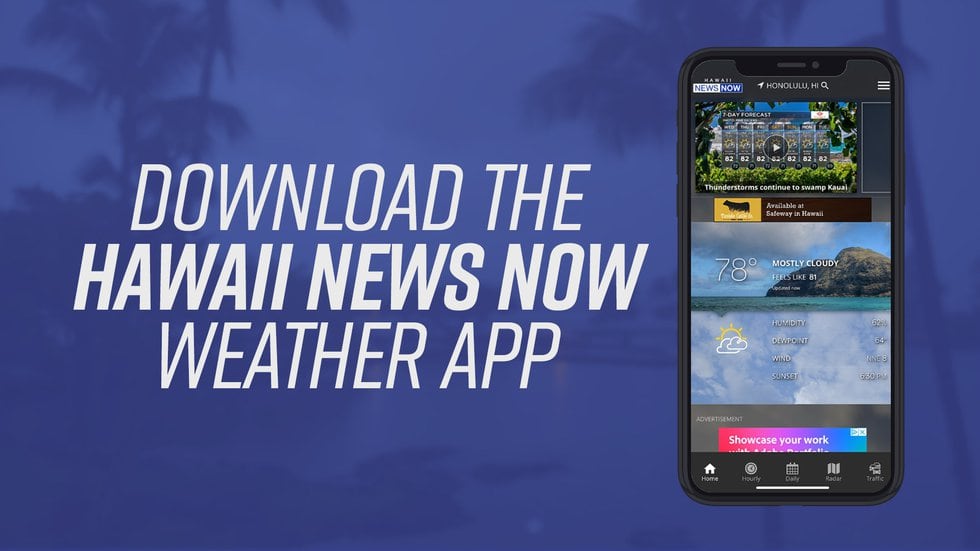 Several small- to moderate-period northwest swells arriving throughout the week will keep surf from going completely flat along north- and west-facing shorelines.
Strong southerly winds will continue to generate rough, short-period chop along south-facing shores through Tuesday night.
Surf along east-facing shores will remain elevated due to the diminishing north swell wrapping into those spots.
Rough to moderate trade wind wave swell will maintain elevated east-shore chop from Tuesday night through the rest of the week.
The coastal flood statement continues through early Tuesday morning due to abnormally high ocean levels coinciding with seasonal high tides.
Get 10-minute weather updates, plus your 7-day forecast on Hawaii News Now Sunrise every weekday morning from 4:30 a.m. to 9 a.m. HST. with Guy Hagi and team. And enjoy updates on the weather throughout the evening starting at 4 p.m. until 7 p.m. and then again at 9 p.m. and 10 p.m. with Meteorologist Jennifer Robbins on Hawaii News Now. And weekend nights with Ben Gutierrez.
Copyright 2021 Hawaii News Now. All rights reserved.