City prosecutor says fatal police shooting of Lindani Myeni was justified, no charges to be filed
Published: Jun. 30, 2021 at 12:54 PM HST
|
Updated: Jul. 1, 2021 at 4:36 AM HST
HONOLULU (HawaiiNewsNow) - In an hour-long news conference Wednesday, City Prosecutor Steve Alm detailed why a months-long investigation by his office concluded the fatal police shooting of Lindani Myeni in April was justified and no charges against the officers involved will be filed.
"The officers who responded to this ended up trying to use multiple non-lethal, non-deadly force methods before they used service firearms," Alm said. "Officer 1 was justified in shooting Mr. Myeni in self-defense. Officer 2 was justified in shooting Mr. Myeni in defense of another (officer)."
Alm also said that his investigators could not find any evidence race played a role in the case, as some members of the community and Myeni's family have alleged. Myeni was Black.
During the news conference, Alm used a PowerPoint presentation and police bodycam video to show what happened before, during and after the shooting ― all to make the point that officers had no choice but to fatally shoot Myeni and tried multiple times to use other means to subdue him.
Among the key details highlighted:
Myeni was acting strangely before the shooting, Alm said, but knew that officers were responding to the scene and was heard saying he "was not afraid" of police.

While unarmed, Myeni was apparently much stronger than any of the officers individually. He had been a professional athlete and Alm said lives were at risk during the attack. The officer who sustained the worst injuries, including a serious concussion, has not returned to work.

Alm said Myeni was punching officers even after being told to get on the ground, shot with a Taser and shot once with a police firearm. He was subsequently shot three more times.
Alm's decision to declare the shooting justified comes at a delicate time for policing in the islands ― and amid a national conversation about how police use force. The city prosecutor has pursued charges against officers in a separate shooting in April, which left a teen dead. Alm declined to take any questions on that case Wednesday because the litigation is ongoing.
Some in the community, however, have argued the Myeni shooting along with the second shooting were both unjustified. Myeni's wife has filed a wrongful death suit against the city, and the fatal shooting has attracted international attention because Myeni was from South Africa.
In a statement Wednesday, the attorney for Myeni's family said Alm's decision not to pursue charges against the officers does not impact the civil case.
He added a number of questions about the officers' actions remain unanswered.
"Mr. Alm's focus on the shooting ignored the first action of ordering an unarmed person to lie on the ground at gunpoint," attorney Jim Bickerton said. "When you avoid addressing the very first wrongful act committed, your analysis of what comes afterwards should not be accepted by the public."
In a statement Wednesday, interim Honolulu Police Chief Rade Vanic said he's thankful two of the officers involved in the shooting have returned to service while the third is still recovering.
"We go to great lengths to protect our community, but the tragic reality is that, in rare cases, incidents may end in the loss of a life," Vanic said.
Police union President Malcolm Lutu, meanwhile, called the Myeni shooting "an unfortunate tragedy" and said the healing process will take time for all those involved.
"No officer wants to use deadly force when doing their job to protect our communities," he said.
And Honolulu Mayor Rick Blangiardi said the case was "difficult for everyone involved."
"This case illustrates why it is important to trust the process to uncover the facts and properly evaluate all relevant information," he said. "Police work is extremely difficult and can be very dangerous. I stand by the men and women who protect our community and wholeheartedly support our police department."
'He refused to leave'
The Myeni shooting happened just after 8 p.m. on April 14 at a home in Nuuanu.
Alm said Myeni showed up at the property on Coelho Way unannounced, following the tenants through the front door as they returned from shopping after "tailgating" them into the neighborhood. The tenants did not know him and did not know what he wanted, the prosecutor said.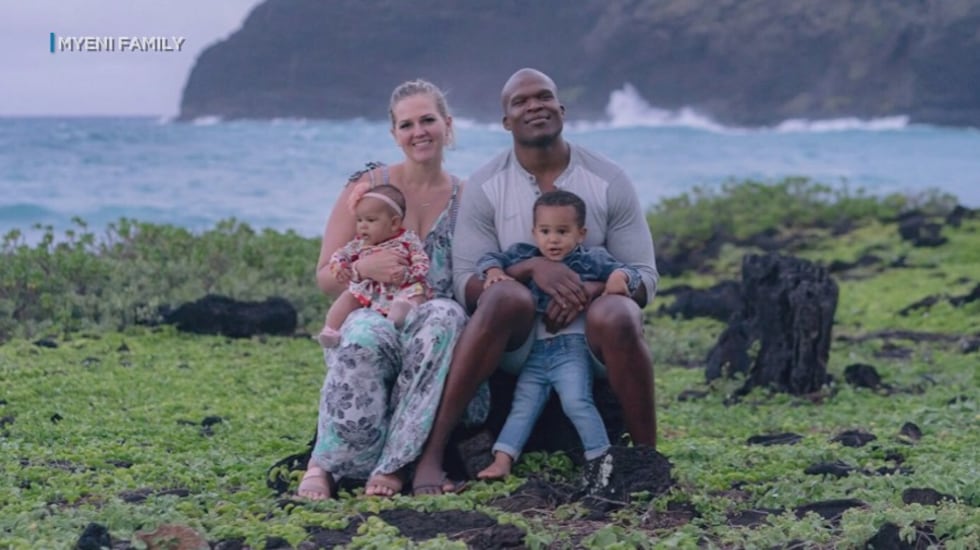 "Witness no. 1 asked him to leave several times and he disregarded that," Alm said, at the news conference. "He said, 'Tell them I'm from South Africa. I'm on a hunt. I'm on a safari.'"
Alm said the tenants took his comments about a "hunt" to mean they were being threatened.
Myeni remained in the home for at least five minutes, Alm added, despite repeated pleas from the tenants to leave and one of the tenants telling him she was going to call the police.
"He entered the home uninvited. He refused to leave despite being asked repeatedly to do so."
Alm added that Myeni, who did have marijuana in his system, seemed to be acting "strange" and "bizarre."
The prosecutor noted Myeni also had an odd encounter with officers just 30 minutes before going to Nuuanu, when he approached police at Kewalo Basin as they took a statement from someone reporting a car theft. Alm said Myeni started questioning the victim himself.
"As officer C was in his car, Mr. Myeni approached him and asked him money for food as he wanted a meal," said Alm.
"My Myeni (then) approached and attempted to get into the back seat of the police car."
Alm said that two days before the fatal encounter, Myeni told a kickboxing instructor that he was going thorugh "crazy African spiritual stuff."
Alm said the exchange, among other things, showed Myeni would have been able to recognize police officers in uniform ― an important point because his family's attorneys have argued Myeni, who is from South Africa, might have thought he fighting off attackers in Nuuanu rather than police.
Alm also noted that when the Nuuanu tenants told Myeni that they were going to call 911, he responded by saying he wasn't afraid of the police.
'Attempts to use non-deadly force did not work'
Once the officers arrived at the Nuuanu home, Alm said, police tried to use non-deadly force multiple times ― including by ordering him to the ground and deploying a Taser ― before fatally shooting Myeni as he attacked them. He said Officer 2 did have a brief interaction with Myeni before the shooting, asking him, "What's going on?" Myeni responded, "I don't know. You tell me."
Myeni then started punching the officers, Alm said.
Officer 1 fired off a shot while being beaten, striking Myeni in the chest. As Myeni continued to throw punches at Officer 1, Officer 2 then fired, hitting Myeni three times. The third officer had deployed a Taser during the melee, but it did not work because one of the prongs hit a nearby car.
"The police had to use deadly force because their attempts to use non-deadly force didn't work," Alm said, adding the police were also concerned that Myeni was trying to take an officer's firearm.
GRAPHIC CONTENT:
Related Coverage:
This story will be updated.
Copyright 2021 Hawaii News Now. All rights reserved.