Battle over Maui beaches heats up as more visitors flock to Valley Isle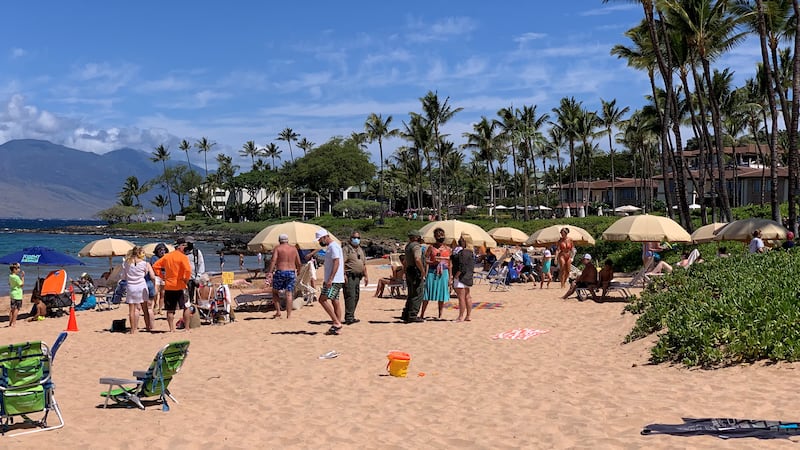 Updated: Apr. 12, 2021 at 7:56 PM HST
HONOLULU, Hawaii (HawaiiNewsNow) - The battle over Maui's beaches is heating up again.
More tourists are visiting the Valley Isle so over the weekend activists staged a demonstration on the beach. A day before the "Take Back the Beach" event, the general manager of the Four Seasons in Wailea warned employees of the planned protest ― and said security will be amplified.
"The group of protesters hopes to make the beach as uncomfortable as possible for the tourists enjoying the beach, minding their own business and supporting our economy," General Manager Marc Bromley said, in the memo to employees.
State Rep. Tina Wildberger called the memo "highly offensive" and said it presented an "us versus them" tone."
Maui activist Kai Nishiki organized the demonstration, in which families spent the day at the beach with signs and beach chairs.
The protest was partly inspired by a photo April 1 showing Wailea beach packed with umbrellas, which resort critics say improperly reserve the beach for tourists.
"By no means am I saying that we shouldn't have tourism at all. It's just that we want it to be managed. We want it to be balanced," said Nishiki.
Maui police and DOCARE officers were called out on Saturday and four people were cited for not wearing masks.
Law enforcement says the event was peaceful, but there were some heated exchanges.
Meanwhile, Bromley apologized about his memo during a Zoom meeting organized by Wildberger on Monday evening. Earlier, The Four Seasons Maui released this statement:
"Like all beaches on Maui, Wailea Beach is public, and we responsibly share access with our guests, visitors and locals alike, following all county regulations. We are committed to an ongoing dialogue about the tourism industry, its impact on the community, and how we can move forward together."
The Maui Hotel and Lodging Association says it reminded property owners that pre-setting beach chairs and umbrellas without guests is not allowed.
And stakeholders on both sides say they are searching for common ground, including capping the number of rental cars, beach permits and a reservation system.
Copyright 2021 Hawaii News Now. All rights reserved.