Attorney for Kaneshiro campaign donors disputes report connecting clients to corruption probe
Updated: Apr. 13, 2021 at 4:30 AM HST
HONOLULU, Hawaii (HawaiiNewsNow) - The attorney representing a powerful Hawaii businessman has issued a public denial following a report that connected her clients to a federal corruption probe into former city Prosecutor Keith Kaneshiro.
However, attorney Sheri Tanaka declined to clarify her statement.
Earlier this month, Hawaii News Now reported that the investigation into Kaneshiro had expanded to include witnesses who donated to his campaigns, including donors connected to powerful businessman Dennis Mitsunaga.
Mitsunaga owns the architectural and engineering firm Mitsunaga and Associates, Inc.
In recent months, employees and their family members have been called to testify before the federal grand jury investigating Kaneshiro. And some of the employees have been called several times.
Tanaka represents them and agreed to read a statement on camera after a grand jury session in which five clients were summoned. She said a March 5 story on Hawaii News Now, which detailed how federal authorities are zeroing in on Kaneshiro campaign donors, is "completely untrue" and "failed to identify its sources." Tanaka, however, did not clarify what part of the story she considered untrue.
[Read the previous report: Federal authorities zero in on Kaneshiro campaign donors in next phase of corruption probe]
Hawaii News Now did reach out to Tanaka via email ahead of that March 5 report, but did not receive a response. It wasn't until a month later that Tanaka agreed to provide her statement.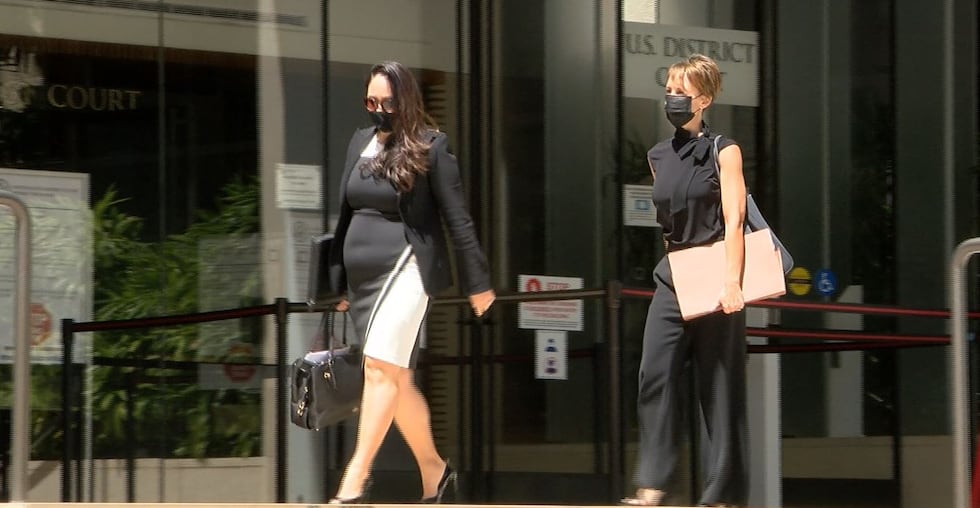 In her statement, Tanaka continued: "Whoever leaked the false information to Hawaii News Now, and specifically you, Lynn Kawano, prejudiced the minds of the jurors, compromised the grand jury and did irreparable harm to Mitsunaga & Associates, Inc."
The firm's employees and relatives who have been called to testify to the federal grand jury had donated to Kaneshiro's re-election fund, according to campaign records.
Kaneshiro is suspected of trying to prosecute a former Mitsunaga & Associates employee who had sued over being fired.
Federal authorities are investigating if that failed prosecution was retaliation for her lawsuit.
Among those who have been called to testify: Mitsunaga's wife, Chan. An interpreter was brought in during her session.
Records show that Chan Mitsunaga donated several times to Kaneshiro's campaign: $4,000 in 2012 and then a total of $5,000 in 2013. Their daughter, Lois Mitsunaga, also gave to his reelection fund in 2012 and 2015. She was called as a witness at the most recent grand jury session earlier this month.
Honolulu Civil Beat published two notable stories about Lois Mitsunaga in 2012.
One touched on how she was appointed by then Gov. Neil Abercrombie to the board of directors for the Hawaii Community Development Authority.
That year she also told Civil Beat that Abercrombie invited her to have her wedding on the grounds of Washington Place, the governor's ceremonial mansion.
The story said the firm's employees donated a combined $60,000 to Abercrombie's 2010 campaign.
Abercrombie also appointed Tanaka, the attorney, to the board of directors of another agency that oversees state projects ― the Hawaii Public Housing Authority in 2014.
Legal experts said it could be considered a conflict for Tanaka to represent multiple firm employees at the federal grand jury.
"Usually when there is a criminal investigation and the grand jury, you want an individual person to have their own lawyer to protect their own interests," said Alexander Silvert, a retired federal public defender.
"In a case like this, where perhaps this attorney is representing the entire company, her loyalty is not to the individual, it's to the company and that can create a problem."
Ken Lawson, of the University of Hawaii Law School, agreed.
"The U.S. attorney can go to a federal judge and say, I believe that this lady has a conflict and then the judge can make a determination on whether or not that attorney can represent multiple individuals."
Lawson pointed out that in 2017, attorneys in a related corruption case ― Myles Breiner and Kevin Sumida ― tried to represent both Katherine and Louis Kealoha. The special prosecutor, Michael Wheat, challenged the representation over conflicts.
The Kealohas eventually ended up with their own, taxpayer-funded attorneys.
Copyright 2021 Hawaii News Now. All rights reserved.