New leaders emerge as Rainbow Warriors football continues spring practices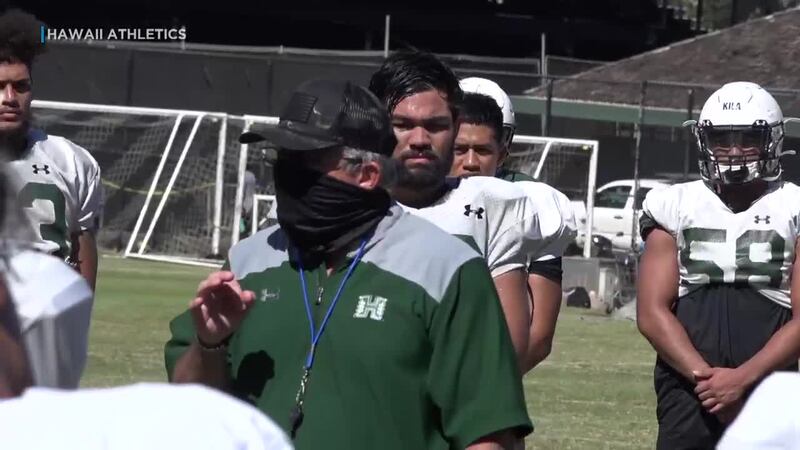 Updated: Mar. 30, 2021 at 6:10 PM HST
HONOLULU, Hawaii (HawaiiNewsNow) - Four practices into the 2021 Spring Training Camp, the Rainbow Warriors football team's core group of returning leaders are taking charge along with some new emerging leaders.
"To me, leadership is a walk, not a talk." second year head coach Todd Graham told reporters after Tuesday's practice. "I think there's been several guys that have kind of slid into that role."
Along with returning leaders like quarterback Chevan Cordeiro, runningback Calvin Turner Jr. and linebacker Darius Muasau, coach Graham's new crop so far has been defensive lineman Djuan Matthews and Senior utility player Heliki Keliiliki who has embraced his role as a do-it-all player early in camp.
"I could go on and on, I think that we haven't enough of a body of work to really say who the leaders are, but they're sure emerging through this camp." Coach Graham said. "It kind of feels like this is the first year, it feels like were still in the first year, I mean this is my first spring training, so that's kind of where we are from a leadership stand point, but I feel good about the direction were headed."
Abbreviated is an understatement for coach Graham, who had limited time to install his game plans ahead of the 2020 season, something Heliki Keliiliki remembers as very difficult, a stark contrast from this season's spring ball.
"Very frantic, trying to put pieces together and just trying to put a team together to put out on the field, but now that we have this extra time were able to learn, were able to teach, were able to just take things a little bit slower or be able to better understand the ins and outs of the system that coach Graham is bringing in." Keliiliki said. "In terms of similarities, the coaches are still as intense as they were, even though it's only day four they're still as intense as they were at the end of the season last year, so the intensity and the spirits definitely still there."
Along with the additional time, comes the addition of more time in the weight room and speed training, as defensive back Cortez Davis says, the 'Bows are leaner, meaner and most importantly, faster.
"Definitely, the off season was crucial for us." Davis said. "Last year we didn't get that, so we kind of felt it in the first couple of games, but this spring I think coach Cooke has done a really good job of getting us big and getting us stronger and faster , that'll correlate to the games."
Copyright 2021 Hawaii News Now. All rights reserved.