Care center employees in Nuuanu 'locked out' amid contract talks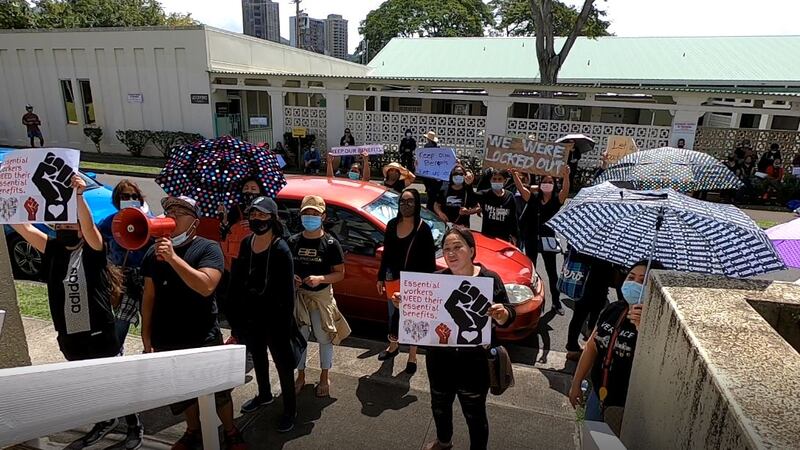 Updated: Mar. 29, 2021 at 4:47 PM HST
HONOLULU, Hawaii (HawaiiNewsNow) - Dozens of workers have been locked out of the Care Center of Honolulu amid ongoing contract negotiations.
The Hawaii Hospital and Health Care Workers Union represents some of the nurses and maintenance workers at the Nuuanu facility.
They say fair pay has been among the issues they have been fighting to address. The union says the company offered some workers a $1 pay raise over three years.
When the workers threatened to strike, they were locked out of the facilities.
"I have to feed my family. I recently got one son, and I get three boys now. I gotta feed my kids," maintenance worker Jouia Malaqui said.
"This really impacts me tremendously."
The union puts the blame on administrators for building the tension in negotiations, calling their response "unreasonable."
"This is not a strike. This is a lockout by the employer. The employer caused this, not us. We want to get these people back to work," said Jim Kellogg, president of the Hawaii Hospital & Health Care Workers Union in Hawaii (HHHCWU).
The union added that the company is also taking away some of their medical benefits as part of the negotiations.
"What they're doing is, they're eliminating four holidays, they're eliminating sick leave, basically, and they switched that over to vacation. So if you're sick, you have to use your vacation," Kellogg added. "They deleted OT over eight hours. A lot of these people are working eight hour shifts, 16 hours a day."
In a statement, the center responded by saying they had no choice but to plan for replacement workers after a strike notice was filed by the union on Sunday. That notice was withdrawn hours later, but administrators said it was in their best interest to proceed with the lockout.
"We regret that our talks with HHHCWU came to an impasse and hope the union's leaders will work with us fairly so that Care Center of Honolulu (CCOH) employees can resume caring for patients. We tried our best to offer a contract that demonstrates how much we value our workers and their contributions. Even though our finances are under pressure due to declines in census from the pandemic and increased operating costs, we found ways to propose hourly wage increases of around 20 to 25%, yet this failed to satisfy union leadership."
The statement continued, "Bringing in costly replacement workers makes clear to everyone our determination to resist fiscally irresponsible demands at a time when the nursing home industry is in crisis."
CCOH says they operate the largest respiratory care unit in the state, which has proven to be crucial to Hawaii's healthcare infrastructure.
"Our job is to ensure that the Center remains financially sound so it can continue the high-quality care that our patients deserve now and in the future," the center said.
Meanwhile, workers who remain locked out expressed concerns for the patients within the facility.
Copyright 2021 Hawaii News Now. All rights reserved.