Hawaii shores inundated with visitors as spring break drives up travel
Updated: Mar. 15, 2021 at 7:06 PM HST
HONOLULU, Hawaii (HawaiiNewsNow) - Over the weekend, more than 26,200 people who arrived in Hawaii said they were coming here for vacation, according to the daily trans-Pacific arrival tracker provided by the Hawaii Tourism Authority.
That number does not reflect arrivals of airline crew members, returning residents, essential workers, and military personnel.
Just over 25,000 people participated in the state's pre-travel testing program, but roughly 1,000 should be under quarantine orders.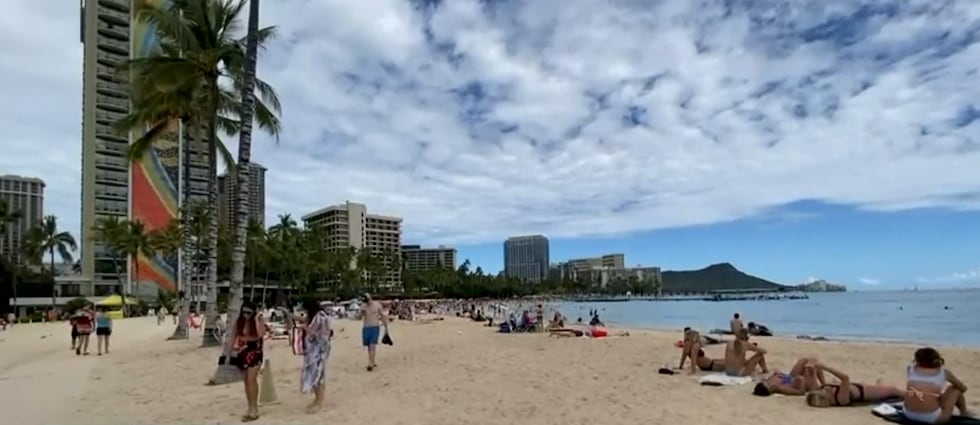 Most of the arrivals were on Oahu, and the upward trend of visitors was on full display in tourism-packed hot spots like Waikiki, and other beaches on across the state.
"It's definitely way busier. We were at a beach yesterday and we could barely find a spot to sit down," Minnesota visitor Delaney Willis said on Monday.
Willis arrived in Honolulu on Saturday to visit her best friend Karina Johnston.
"I moved here in January to work remote and enjoy the beach and since March, more people have been coming," said Johnston.
The large spike in tourists is likely credited to spring break travelers as mainland states ease restrictions, and people search for ways to resume their long-awaited plans — which is welcome news from an economic standpoint, but concerning to officials.
It's good news for locals like Dustin Fernandez.
"Having this little break of not having them was good. But being in the industry of tourism, getting back to work, feeling like we're normal again is a good feeling," Fernandez said.
Fernandez is a surf instructor in Waikiki and is happy to be back at work.
"I've been seeing more families come. Spring break just started. So I think this week we'll see more people coming," he said.
Mufi Hannemann, President and CEO of the Hawaii Lodging and Tourism Association said a mixture of visitors are coming to Hawaii for spring break.
"I checked with our hotels and partners, they said they're seeing it across the board, the budget-conscious traveler that wants to come and bring their family, young adults who are on spring vacation who are longing to come to a place where they can have fun in a safe and healthy way, and those who can afford to come to Hawaii and stay at the resort," said Hannemann.
Hannemann attributes the pent up demand, the state's successful safe travels program, and an increase in vaccinations as reasons for the influx.
[Read a related report: US air travel rises to highest levels yet since pandemic hit]
"We have seen footage of people enjoying spring break festivities, maskless," CDC Director Dr. Rochelle Walensky said in the White House briefing. "This is all in the context of still 50,000 cases per day. I'm pleading with you for the sake of our nation's health."
Officials say everyone's guard should not be let down just because vaccines are being administered nationwide.
"These should be warning signs for all of us — cases climbed last spring, they climbed again in the summer, they will climb now if we stop taking precautions when we continue to get more and more people vaccinated," Walensky added.
Meanwhile, as Hawaii's arrival numbers steadily incline, it is slowly on track to get back to pre-pandemic levels, where over 30,000 people arrived daily. Economists previously predicted it would take years for tourism to fully recover, but even Gov. Ige previously admitted to underestimating the pent-up demand for travel when the pre-travel testing program launched in October last year.
The chart below shows the trends in tourism from 2019 until March 2021.
Copyright 2021 Hawaii News Now. All rights reserved.