Evacuation order lifted for Haleiwa residents, but threat of flooding remains
Updated: Mar. 10, 2021 at 1:00 PM HST
HONOLULU, Hawaii (HawaiiNewsNow) - A broad evacuation order for Haleiwa town was lifted late Tuesday as the threat of "catastrophic flooding" from torrential rains subsided.
While the heavy rains started to let up by early evening, water levels in swollen waterways were slower to recede — and authorities warned severe flooding was still a possibility.
The order was lifted about 11:30 p.m. — seven hours after it was issued.
A flash flood warning that was in effect for much of the day also expired around 12:30 a.m. Wednesday. But with the ground so saturated, National Weather Service forecasters warned that any rains could trigger flooding.
[Read more: Governor declares state of emergency in the wake of damaging floods on Oahu, Maui]
Officials urged returning residents to proceed with caution following a day of drenching rains, which triggered flooding across Windward Oahu and the North Shore that damaged homes and closed roads.
The evacuation order was issued about 4 p.m., forcing hundreds to flee their homes or businesses within minutes as the Opaeula Stream reached levels the National Weather Service called "particularly dangerous." The stream rose Tuesday afternoon from 4 to 16 feet, with water rushing toward the ocean.
By about 6:30 p.m., video showed the stream had overtopped its banks, sending floodwaters streaming into nearby businesses and homes. Aerial video appeared to show dozens of homes with flood damage.
One couple said they barely made it out of their Haleiwa home. A neighbor came to their rescue.
"It was kind of dry and then all of a sudden! ... We thought we were gonna be OK and the next minute it was on our stoop and another few minutes it was going to be in the house."
While the evacuation order came as a surprise, it was widely heeded.
Within an hour of the order coming down, Haleiwa town was emptied and most businesses were closed. Police have blocked off entry to Haleiwa, forcing residents to patiently wait for the "all clear."
The Haleiwa situation capped a day of flooding damage for Windward Oahu and the North Shore.
Earlier in the day, several homes in Hauula sustained significant damage in rising floodwaters. There were also reports of cars submerged in water and trees down.
The problems come a day after severe flooding on Maui that destroyed or badly damaged at least six homes, washed out roads and bridges, and caused a century-old dam to overflow.
[Read more: Homes flooded, roadways damaged on Maui as torrential rains batter state]
[Read more: Century-old dam that overflowed on Maui is slated for removal, state says]
Parts of Maui saw 1 1/2 to 2 feet of rain in a 24-hour period.
The National Weather Service said that heavy rainfall shifted to Oahu on Tuesday as part of an "ongoing event" that was also impacting other islands.
Throughout the day, Kamehameha Highway in Windward Oahu and the North Shore was impassable in several places because of flooding or debris on the road.
The rain also kept first responders busy.
From 8 a.m. to 9 p.m., Honolulu firefighters responded to at least 20 weather-related calls, including more than a dozen requests to assist with flooding conditions.
Later in the day, authorities were called to reports of someone swept away at Waihona Stream. Another rescue took place in the Waikele Stream. For more information on these rescues, click here.
Dramatic video captured in Hauula also showed raging stormwaters flowing over a closed Kamehameha Highway, flooding yards and homes and pushing its way to the sea.
The rain started in Windward Oahu early Tuesday and continued through the day. In the 24 hours that ended at 6 p.m. Tuesday, more than 14 inches of rain fell at the Kahana rain gauge. Rain gauges in Waiahole, at the Waihee Pump and Hakipuu got 10 inches or more.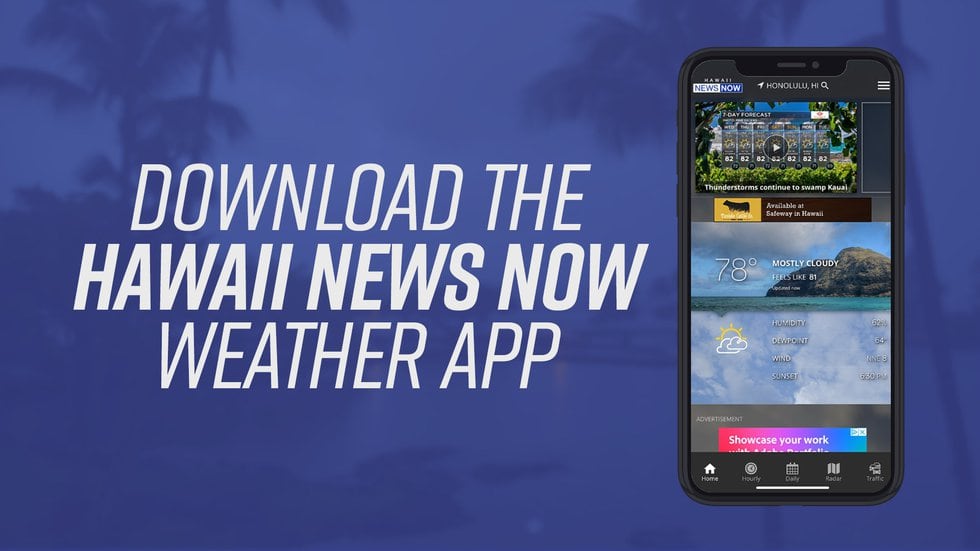 The severe weather left many residents spending the day in clean-up mode.
In Wong's Village in Kahaluu, two small bridges collapsed under the weight of a cement truck.
A witness says when the first bridge gave way the water in the stream below had risen almost all the way up to the road. "About 11 a.m., I heard the truck going over the bridge and just a drop: 'Boom!' And he drove through and that was it. He was stuck here since then," said witness Lee Kumai.
On Kamehameha Highway, a mom and daughter trying to get home to Kaaawa were forced to wait out the storm at Kahaluu Regional Park. "There was like 3 feet of water. One truck tried to sneak through. I don't know if you got through all right. I mean it's a total swampland," said driver Carla Kuba.
And residents in a property overlooking Kaneohe Bay were pushing water out of their home Tuesday.
This story will be updated.
Copyright 2021 Hawaii News Now. All rights reserved.