Homes flooded, roadways damaged on Maui as torrential rains batter state
Updated: Mar. 9, 2021 at 3:34 PM HST
HONOLULU, Hawaii (HawaiiNewsNow) - County officials are beginning to survey the damage left behind by severe flooding that hit East Maui on Monday afternoon, damaging or destroying at least half a dozen homes, washing out roads, and making at least two bridges impassable.
Meanwhile, crews on Maui were also continuing to monitor Haiku's Kaupakalua Dam, which overflowed Monday afternoon. Authorities feared it was in danger of failing as torrential rains walloped the island.
[Read more: Flash flood warning extended for Oahu as torrential rains continue]
[Read more: LIST: Emergency closures, operations in effect as threat of severe weather remains]
Concerns about the dam prompted evacuations and some residents still haven't been able to return. On Tuesday morning, officials said dam levels were still high but it is not overflowing.
"At this time, we are not aware any property damage that occurred due to the over-topping," said Shan Tsutsui, chief operating officer of Mahi Pono, which is part owner of the dam.
"However, this does not diminish the damage caused in the surrounding community located mauka of the reservoir by the overwhelming and unprecedented rainfall here on Maui."
Maui Mayor Mike Victorino said damage assessments are underway in the area and spots remain unsafe. "We're very concerned that people stay out of the area as much as possible so that our cleanup crews and our emergency assessors can get in and do assessments," he said.
And National Weather Service meteorologist Bob Ballard warned that any additional rain on Maui, where the ground is already heavily saturated, could trigger flooding.
"Yesterday we saw 1 1/2 to 2 feet in parts of Maui," he said. "It really won't take much more heavy rain to see flash flooding."
Here's the latest on the situation:
Kaupakalua Bridge was heavily damaged in the flooding and Peahi Bridge was destroyed.

There were also reports of several landslides and washed out roadways.

About half a dozen homes were heavily damaged or destroyed in the flooding. Residents should report flood damage to the Maui Emergency Management Agency by clicking here.
Evacuations remain in place for those who live in the vicinity of Kaupakalua Dam and makai of Kaupakalua Road. It was unclear when evacuation orders would be lifted. About 30 people stayed overnight at emergency shelters on Maui. For more information, click here.

Maui firefighters responded to at least a dozen calls Monday night for help from residents trapped by rising floodwaters. There were no immediate reports of injuries.
Victorino said the area hasn't seen so much rain in decades.
"Many people out there, including myself, had never seen so much rain fall so quickly in such a short span of time," Victorino said. "It was very unusual."
He added, "These are the kind of weather events we keep talking about because of climate change."
More than 16 inches of rain fell in West Wailuaiki above Wailua in the 24 hours that ended at 8 a.m. Tuesday. Haiku saw nearly 8 inches over the same period.
A flash flood warning that was in effect for Maui has expired, but forecasters warned even moderate downpours could trigger flooding because of how saturated the ground is.
As crews survey damage left behind by the storm, authorities are also closely watching Kaupakalua Dam, which overflowed on Monday afternoon.
Officials initially said they believed the dam suffered a "small breach" but then backtracked on that.
"(Water) has been coming over the top of the dam itself, but there has been no structural damage from what from the report I just got," Victorino said.
"So the breaching that they thought was happening was because water was coming over. And some of them estimated that had breached — but right now, to be perfectly honest, no breach."
The earthen dam, owned by East Maui Irrigation, overtopped its banks Monday afternoon. Authorities feared it would fail if the rains continued, but about 5 p.m. officials said the overflow had stopped.
Kaupakalua Dam sits above an estimated 7,000 people who live in the area. The state Department of Land and Natural Resources said roughly 30 parcels sit below the reservoir.
Victorino first headed to the area earlier Monday afternoon amid fears the dam could fail.
He warned residents to take the threat seriously.
"This is a real flooding situation we have not seen in a long time," Victorino said. "Some of the residents have told me this is the worst they've seen in over 25 years."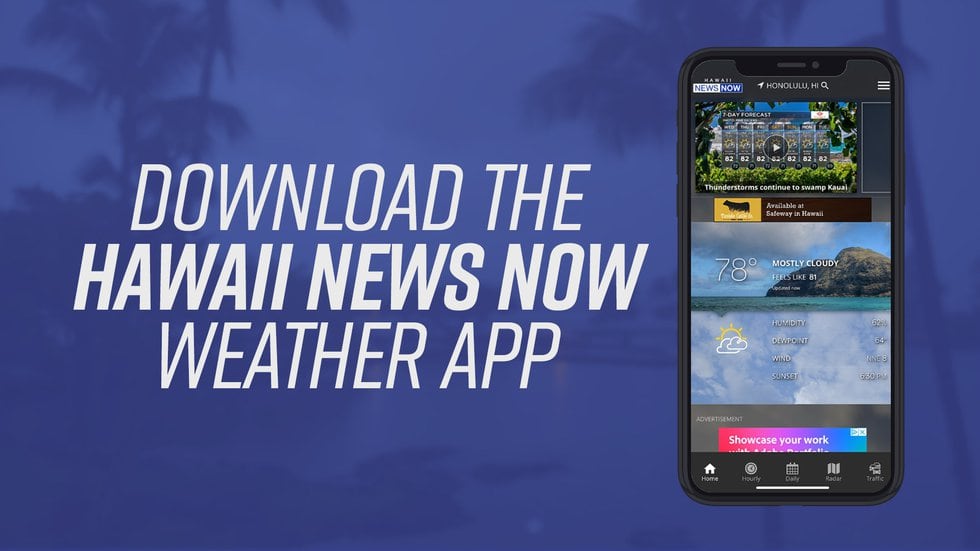 Kaupakalua Dam's owner contacted the state's dam safety program about 1:30 p.m. to report extremely heavy rainfall and said the spillway was running very high.
Just after 2:45 p.m., officials reported the "imminent failure" of the Kaupakalua Dam.
The dam is 400 feet long and 57 feet high, according to state records. It's also one of the oldest agricultural dams on Maui, constructed in 1885, and can hold 68 million gallons of water.
East Maui residents say they haven't seen rains so heavy in years.
"I have lived here for 30 years and I think this is the first time that I have seen so much rain," said Makawao resident Lydia Toccafondi Panzik.
"I've seen hurricane times, I've seen floodings, but this was really a bad one."
Makawao resident Cheri Swan Thurgood was stuck in Haiku on Monday afternoon, unable to get home because the roads were flooded out.
"I've never seen this much rain come down," she said.
This story will be updated.
Copyright 2021 Hawaii News Now. All rights reserved.