Sightings of humpback whale mothers and calves prompt warning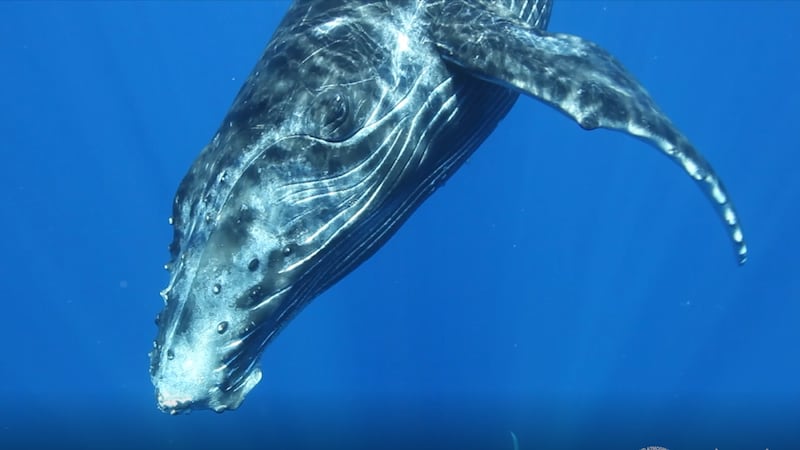 Updated: Feb. 15, 2021 at 1:15 PM HST
HONOLULU, Hawaii (HawaiiNewsNow) - Over 80 humpback whales and nearly a dozen mothers and calves were sighted last Friday off a small area of Maui, according to NOAA.
Researchers estimate that there are likely more than 100 mother and calf pairs presently in Maui Nui waters, which is the area between Maui, Molokai, Lanai and Kahoolawe.
As humpback whales return to Hawaiian waters for birthing and nursing season, NOAA asks the public to keep a safe distance and to report animals in distress when viewing these whales.
NOAA said that boaters should scan the waters ahead and to the side of a boat in order to prevent collisions with marine life, obstructions, divers and other vessels.
They also advise to sail at slower speeds to reduce the risk of collisions with the animals.
Because humpback whales are protected in Hawaii, federal regulations prohibit approaching within 100 yards of whales when on or in the water and 1,000 feet when operating an aircraft.
These and other regulations apply to all ocean users, including vessel operators, kayakers, paddle boarders, windsurfers, swimmers and divers throughout the Hawaiian Islands.
Officials also ask that if you see an injured or entangled marine mammal, keep a safe and legal distance, and call NOAA's 24/7 Marine Wildlife Hotline at 888-256-9840 or hail the U.S. Coast Guard on VHF channel 16 immediately.
NOAA reminds the public that they should not enter the water or try to disentangle a whale.
"Removing buoys or portions of trailing gear may actually do more harm than good, as doing so leaves lethal wraps behind with less likelihood that the animal will be re-sighted," NOAA said.
"The best way to help an entangled whale is to report the sighting immediately, alerting authorized responders who have training, experience and that are well-equipped the opportunity to not only free the animal of all gear, but gain valuable information towards reducing the threat."
Copyright 2021 Hawaii News Now. All rights reserved.