Don't take painkillers before getting vaccinated (and other things you should know)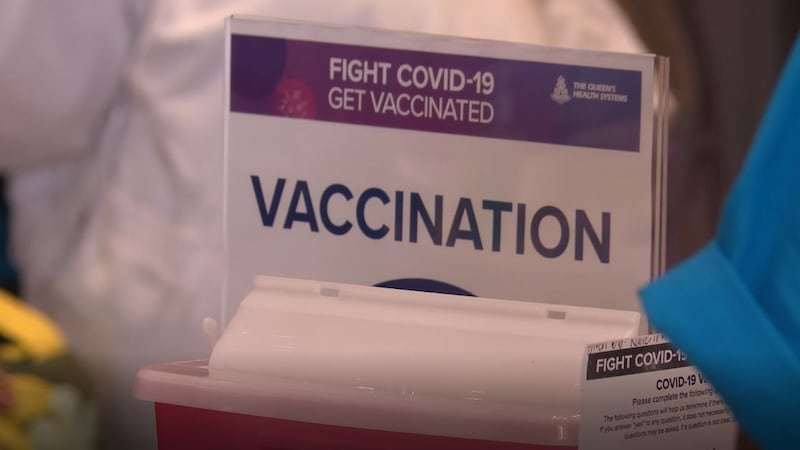 Updated: Feb. 17, 2021 at 3:09 PM HST
HONOLULU, Hawaii (HawaiiNewsNow) - More than 200,000 doses of COVID vaccines have been administered in Hawaii.
The vaccines will help the US emerge from the pandemic, but there are some things you need to know.
A few weeks after you've gotten two doses of either the Pfizer or Moderna vaccine, you'll be protected but other people around you won't.
That's why you'll still need to wear a mask in public and maintain social distancing.
Because while vaccines protect those who get them, it's not yet clear whether they reduce disease transmission. That means someone who is vaccinated could pass COVID onto others.
Looking for information on whether you're currently eligible for a vaccine in Hawaii. Click here.
After you get your first or second dose of the vaccine, there's a temptation to let your guard down.
But ... don't. The protection the vaccines provides is not immediate or absolute.
In fact, it takes several weeks for the first dose to be about 50% effective at preventing COVID. Two weeks after the second dose, the effectiveness rate goes to 95%.
Get more vaccine coverage by heading to HNN's special Vaccinating Hawaii section.
Most people who get the vaccine will experience some mild side effects, including pain in your arm. Some people also experience fever, chills or joint pain.
It's true that side effects are stronger with the second dose and more common among younger people.
The good news: Side effects mean the vaccine is working.
And they usually only stick around for one to three days. Compare that to how long you'll feel sick if you actually contract COVID-19.
You might be tempted to take a pain reliever before you get your vaccine.
That's not a good idea, according to the CDC. Health experts aren't sure if taking a pain killer before getting the vaccine inhibits its efficacy so they're recommending against it.
You can take painkillers, like Tylenol or Motrin, after you get the vaccine if you're experiencing symptoms.
If you're experiencing an allergic reaction, treatment will be different.
Studies show the vaccines available in the US provide significant protection against COVID.
But it's not yet clear how long that protection lasts.
Variants now circulating in the US are also complicating the picture because preliminary research shows the vaccines could be less effective (not ineffective) against some of them.
Copyright 2021 Hawaii News Now. All rights reserved.