State ups enforcement of illegal seawalls, issuing fines to property owners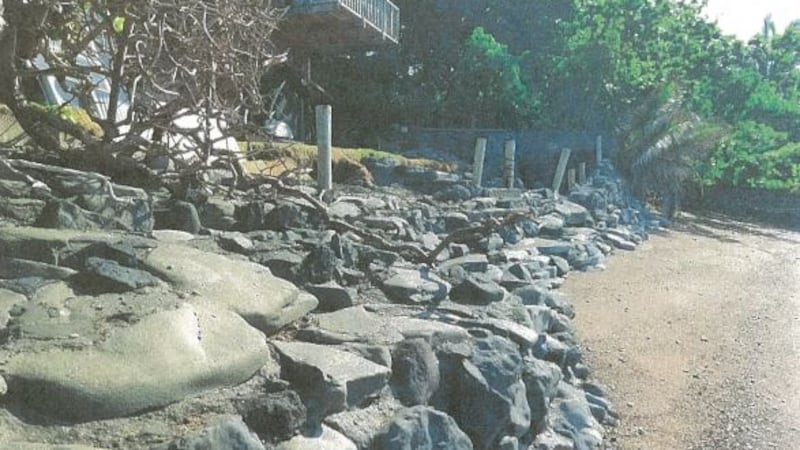 Published: Jan. 23, 2021 at 11:47 AM HST
HONOLULU, Hawaii (HawaiiNewsNow) - As beachfront property owners struggle with erosion, the state is going after those who build unpermitted seawalls.
Well known surfer and community leader Liam McNamara was fined $35,000 by the State Land Board Friday for rebuilding the wall at his Ke Nui beach home.
He'll get credit for what it costs to replace it with softer barriers, but McNamara argued that after Hurricane Douglass last summer, the state refused to give him a permit to repair a damaged wall that was putting beachgoers at risk.
"I asked him for help. I pleaded with him, I asked him, 'What can I do?' He said nothing. I asked him if he could help me, and he said he can't do nothing," McNamara said on a Zoom call with DLNR officials.
"If this seawall falls down and kills one of the neighbors, or a life guard coming by on an ATV, or a tourist, am I responsible? Because that's what you told me, I'm responsible," he added.
Land Board Chair Suzanne Case said it is difficult to find balance between mitigating erosion and protecting homes.
"The only way to protect the beach is for the homes to be gone. You are just the tip of the sword here in a very very difficult situation," Case said.
"What we are trying to do is not have seawalls along the area because what we are trying to do in the long run is protect the beach this is a hugely important beach for the public," Case added.
The land board also issued a fine of $80,000 against Molokai activist George Peabody, who had refused to stop construction and replied to the enforcement with angry letters.
Another fine was handed down to the owner of a rental property in Punaluu. They were fined $17,000 for using a crescent of rock to protect the structure.
The homeowners may appeal the fines.
Copyright 2021 Hawaii News Now. All rights reserved.