Hawaii Trump campaign chair says roving caravans 'worked against' the president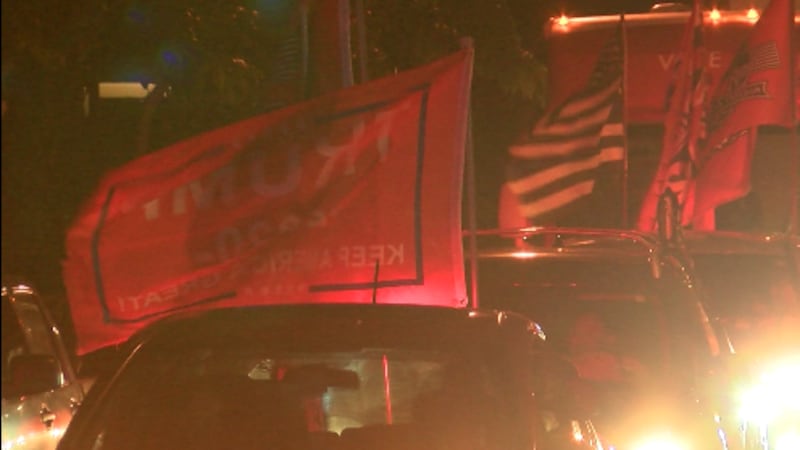 Updated: Nov. 5, 2020 at 10:32 PM HST
HONOLULU, Hawaii (HawaiiNewsNow) - The chair of the Hawaii Trump campaign said the recent caravans and gatherings of support for President Trump may have actually hurt him in Hawaii.
"The Trump flag waving that occurred throughout the state, the enthusiasm there, which wasn't part of the Hawaii Trump Victory Campaign, that was spontaneous ongoings by people who love the president, that I think worked against us," said Al Frenzel.
Frenzel said he believes the caravans upset and annoyed people, motivating them to vote blue.
"Sign waving is a great tool for a new candidate that doesn't have name recognition or money to run their campaign. But to have sign waving for a candidate who has no name recognition problem whatsoever, I just wish that energy would have been diverted to what we were working on," Frenzel said.
Hawaii voters picked Joe Biden by a two-to-one margin. The last time a Republican won Hawaii's electoral votes for a presidential race was in 1984 with Ronald Reagan. Before that was Richard Nixon in 1972.
Frenzel said with little chance of turning Hawaii red, the local Republican Party spent its time making calls to drum up support stateside.
"We were participating in Pennsylvania, Georgia, Florida, Nevada, Arizona, Michigan, all the key states with phone calls," he said. "There are a number of paths to 270 for the president's win."
The Hawaii Republican Party Chairwoman said they are still holding on to hope President Trump will retain the presidency.
"We're pretty confident that there's a pathway to 270 for President Trump. Of course, we're on edge as well," said Shirlene Ostrov.
Meanwhile, Democratic Senator Mazie Hirono is hoping this the end for President Trump.
"I have no doubt that we're going to make the kind of progress we have not been able to make under Trump who has spent too much time dividing this country," Senator Hirono said.
Senator Hirono added that she hopes a Biden presidency will lead to a better infrastructure plan, something she said she already has been working on with the mayors of Kauai and the Big Island.
Copyright 2020 Hawaii News Now. All rights reserved.