Local support for Trump grew in 2020, but it didn't translate into down-ballot wins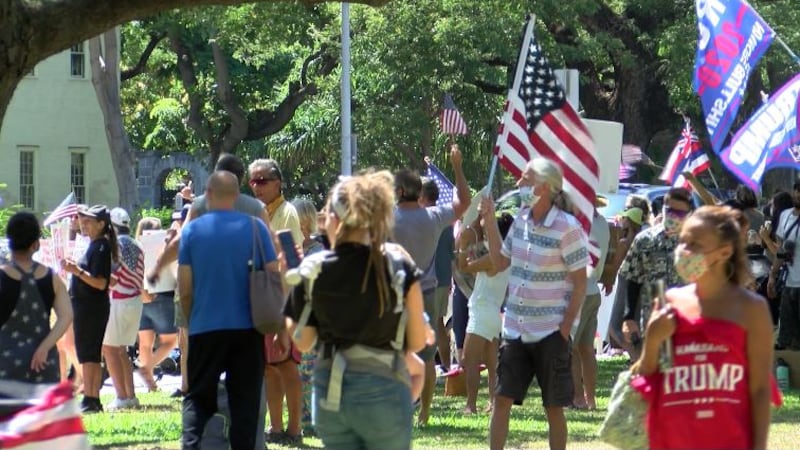 Updated: Nov. 4, 2020 at 1:55 PM HST
HONOLULU, Hawaii (HawaiiNewsNow) - Local support for the Republican presidential candidate rose in 2020 to the highest level observed since the 2004 general election, a sign that enthusiasm for incumbent Donald J. Trump across Hawaii was strong despite the state's reputation as a Democratic stronghold.
Nearly 197,000 local voters ― or about 34% ― cast ballots for Donald Trump in the 2020 general election, roughly 68,000 more than did so in 2016, when Trump totaled 30% of the vote against former Secretary of State Hillary Clinton.
Not since George W. Bush ran against then-Sen. John Kerry of Massachusetts in 2004, when Bush earned 45% of the vote in Hawaii, has a Republican candidate performed so strongly in a general election.
Despite what appeared to be an uptick in support for Trump, it was not unusual for national political experts to call Hawaii for the Democratic candidate as soon as local polls were closed.
Hawaii has not voted for a Republican candidate since Ronald Reagan won the 1984 election, and Biden's margin of victory against Trump amongst Hawaii voters by almost as large (30%) as the turnout for Trump himself (34%).
The stronger-than-usual support for Trump did not necessarily translate into support down the ballot, either.
Longtime Republican lawmaker Sam Slom lost his bid for the state Senate's ninth district, leaving Kurt Fevella (Ewa Beach) as the lone GOP member of that chamber.
And Kanani Souza's loss to Patrick Branco in the race for District 50 in the state House will leave just four Republican state representatives in the 51-member legislature.
All of the Republican winners in Tuesday's elections were incumbent candidates.
Copyright 2020 Hawaii News Now. All rights reserved.