As pandemic presses on, Hawaii Foodbank receives $100k from local auto dealership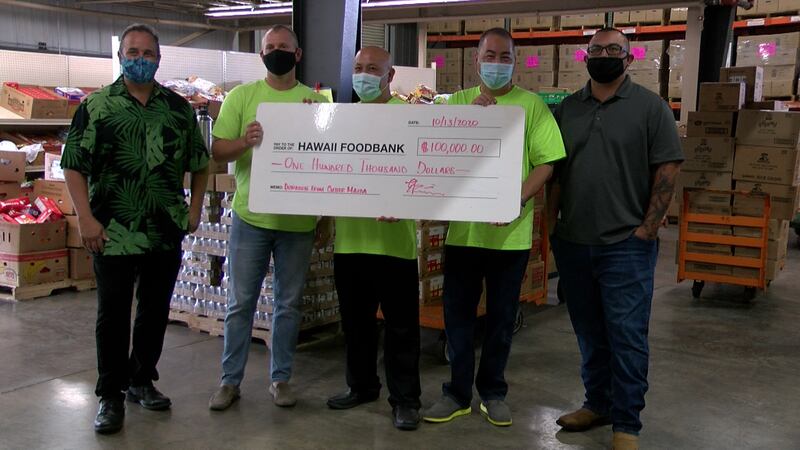 Updated: Oct. 13, 2020 at 3:13 PM HST
HONOLULU, Hawaii (HawaiiNewsNow) - Hawaii's leading hunger relief organization received a $100,000 donation on Tuesday from Cutter Mazda ― a figure that was sure to help continue to provide meals for families suffering through the hardship of COVID-19.
"We decided, based on what's going on economically, socially and the impacts of the pandemic, that we wanted to give back to the community," said Jarrett Cutter, the COO of Cutter Automotive Galleries.
The donation was critically important for the Hawaii Foodbank. The organization, which distributed 12 million pounds of food to the community during the entirety of 2019, has passed out roughly 16 million pounds of food since the pandemic began.
"The Hawaii Foodbank is a great partner. They really do a lot to give back to the community, and the community has done so much for our family over the years that in a time of crisis, we felt it was right to give back," said Cutter.
In addition to the donation, the company also volunteered with a food prep and distribution event in Waianae. Given the severity of the pandemic, the Foodbank says hunger is an everyday crisis for many families.
"For the amount of food that's heading out the door, we know that those affected by COVID ― whether it be by unemployment, furlough, or even their jobs being eliminated ― totally is a very real issue," says Ron Mizutani, President and CEO of the Hawaii Foodbank.
"A donation of this size, of any size, is greatly appreciated, because at this point we don't really see this thing slowing down any time soon," added Mizutani.
If you need more information on how to get food or how to make donations, visit the Hawaii Foodbank's website.
Copyright 2020 Hawaii News Now. All rights reserved.