More obstacles threaten to delay completion of rail project by up to 4 years
Updated: Sep. 24, 2020 at 10:52 AM HST
HONOLULU, Hawaii (HawaiiNewsNow) - There's more trouble for the embattled rail project.
A day after Hawaii News Now reported that the project faces delays of up to 18 months, new documents released by the Honolulu Authority for Rapid Transportation show that construction may be pushed back nine months to as much as four years. That could add tens of millions of dollars in extra costs.
"Whenever we hear about delays we know that's going to add to cost," said City Councilmember Joey Manahan.
"Up until now, we thought everything is fine. I don't now why these concerns seem to pop up all of a sudden."
The latest problem involves the underground utilities along Dillingham Boulevard, which has been a thorn in the side of rail project for years, adding tens of million of dollars in costs and months of delay.
In a presentation for a Thursday HART board meeting, rail officials indicated that they still haven't gotten the city's complete go-ahead to move the power lines underground.
They're seeking variances from the city that would allow them to place the electrical lines within safe proximity of underground water and sewer lines.
But because HART hasn't been able to obtain these variances, it's ordered its contractor to stop all work on underground utilities along Dillingham Boulevard.
Manahan said the delays are partly HART's fault.
"HART is not coming in to the (city) department with the proper drawings for example to obtain their permits," he said.
But people familiar with the situation said the city has approved these variances in the past without requiring HART to provide all of the lengthy documentation -- so that construction can continue.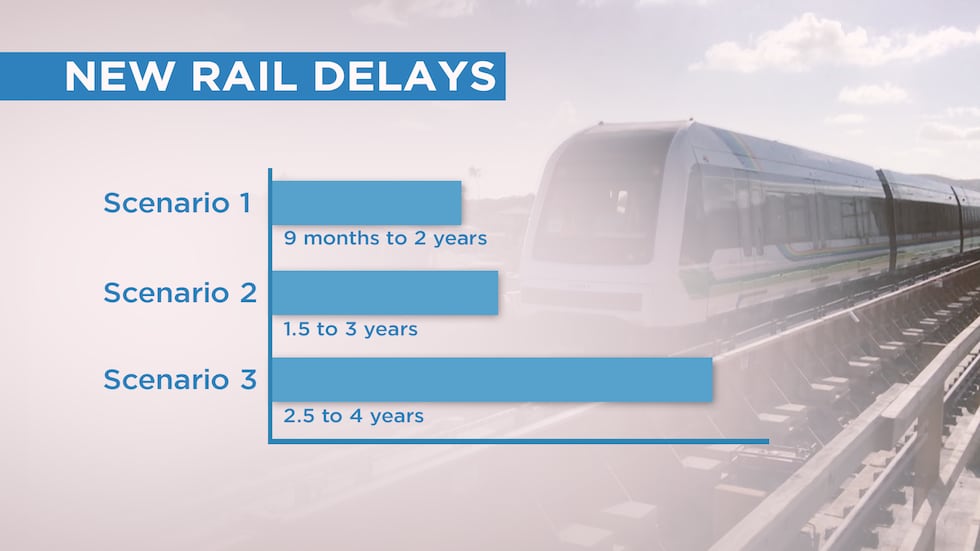 The $9.2 billion rail project is supposed to be completed in 2025. It plans to begin interim service between East Kapolei and Aloha Stadium next March.
HART said if the city doesn't give those variances it may have to buy a number of small parcels of land along Dillingham, which will delay the project 9 months to 2 years.
Or, it may have to shift portions of the elevated guideway near Honolulu Community College, which could cause a one and-a-half to three year delay.
The worst-case scenario is that it would have to acquire large parcels -- about 20 feet at the side of Dillingham -- along the entire street.
That would delay the project up to four years and add hundreds of millions of dollars in extra costs.
"We've known for many years this area was going to be a problem," said Manahan.
Copyright 2020 Hawaii News Now. All rights reserved.